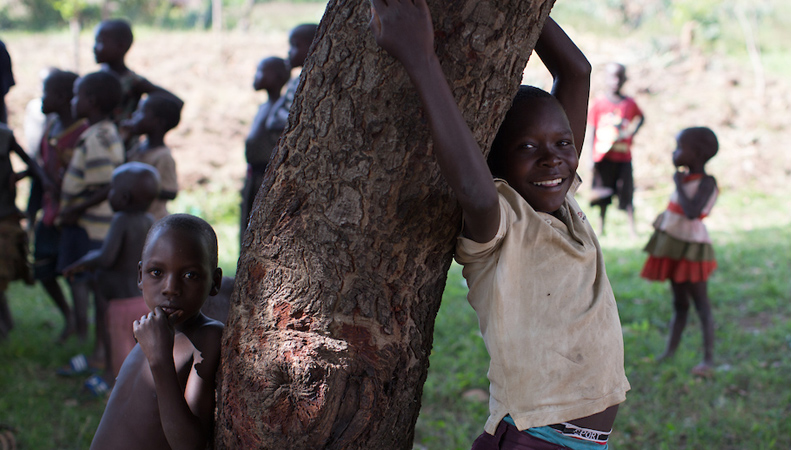 EWTN Newscast Highlights Work of St. Clare's Home for Children
The plight of South Sudan's street children and the work of St. Clare's Home for Children was highlighted in an EWTN news broadcast. Reporter Colm Flynn was on the ground in South Sudan and paid a visit to the children's home in Juba to shed light on their activities, triumphs, and challenges.
Flynn noted how a lethal combination of a failed economy, instability, broken families, and extreme poverty give rise to an ongoing population of street children who are either without homes, or forced out of their homes in a desperate attempt to find the means to survive.
Life On The Streets
There are an estimated 3,000 children living on the streets in Juba, and the number is growing. They are not in school. They wear dirty, torn clothing and may be in need of medical help from sickness or injuries. Street fights are common. All of them desperately need help.
When Franciscan missionary, Father Federico, arrived in Juba, he was moved by how many young children he saw alone on the streets. After initially bringing them food, water, clean clothes, and checking on them regularly, seeing the horrors of their street life urged him to find a building where he could house them. That calling became St. Clare's Home.
Franciscan nuns at St. Clare's seek out these abandoned, orphaned children and bring them from the streets to the orphanage located on the outskirts of Juba. While the home is meager and lacks amenities, the refuge provided to the street children makes a world of difference. They finally have a roof over their head, a safe place to sleep, and a modest meal each day.
A woman known as Momma Betty, who directs the home's daily activities, is happy to give Flynn a tour. The orphanage often runs out of power, she shares, since there is no national electric grid and batteries are expensive to replace when they run out. At that time, the home had been without power for six weeks. Children sleep five to a bed, or on the cement floor.
But 17 year-old Clement, a resident of St. Clare's, is quick to share how happy he is to be there. More than anything, the children appreciate feeling safe. "At night it is dangerous. There are very many criminals moving at night, and if they find you, then they kill you," he said.
Clement's parents both died when he was very young. With no social or welfare programs of any kind to provide for orphans in this country, he was forced to survive completely on his own.
"Before when we were on the street, there was no one who cared about us," he said. "But when Momma brought us here, now all things became okay. Life even is okay. We are happy here."
Momma Betty said it's all about showing the children they are worth something. That "they are loved, they are valued, and they are unique."
Many children who come are traumatized. The home at St. Clare's regularly plays music so children can sing and dance. It is therapeutic for them. They have a gated yard where they can play and swing and imagine better times ahead. Such as Clement, who dreams of becoming a doctor.
Sister Rose, who also helps at the home, said the difficulties she and the residents of St. Clare's deal with don't shake their faith. "I think sometimes the pain stretches one to even have trust in God more."
---
If you would like to help the work being done at St. Clare's, your gift will provide for children like Clement and many others who are off the streets because of this home.
Would you like to pray for us? Lifting Up South Sudan is a group of people helping transform lives in South Sudan through the power of prayer.You'll receive a new prayer request weekly by email, and be part of a team praying to bring light and hope to this despondent part of the world. To learn more or sign up to receive prayer requests, go here.
Donate Now