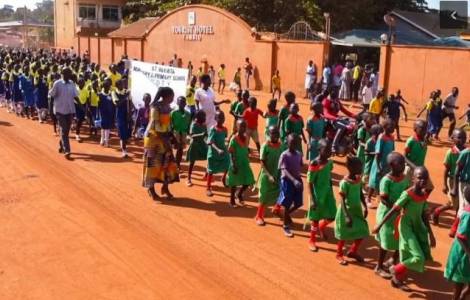 Catholic University Joins Annual Day of Catholic Schools To Celebrate Education for the Promotion of Peace
Students from around the diocese of Tombura Yambio gathered for the annual Day of Catholic Schools – a day when all schools within the diocese program from pre-primary through higher education, including Catholic University, come together to mark the special occasion.
The annual celebration focuses on the purpose of education and its ultimate aim to raise up people who serve God and community with courage and integrity. Said ad interim Vicar General of the diocese, Fr. Charles Tombe, "We are united by God for the mission of bringing peace to people," adding that students are being educated to become competent individuals who work for unity and love for all humanity in the future.
Despite being in the midst of many humanitarian challenges, the celebration was still held with the objective of spreading hope and confidence throughout the shaken state of Western Equatoria. "Despite the challenges, it is important to focus on what we want to be," said the vicar general. "We can fulfill ourselves only if we work for the peace that comes from God."
In fitting with the message, this year's theme of the Annual Day of Catholic Schools was "School Children – We Are for Peace." The event kicked off with a collective gathering in Yambio's Freedom Square in the morning, followed by a march through the city to the Parish of St. Mary Mother of God. Students from five schools of higher education, eight secondary schools, 28 primary schools, and 24 nursery schools all participated the annual event.