In March of 2021, Bishop Christian Carlassare of Vicenza, Italy, was appointed Bishop of Rumbek by Pope Francis. His appointment at age 44 made him the youngest Italian Catholic Bishop at the time.
After attending orientation at the Comboni Missionary Seminary, Bishop Carlassare earned his Bachelor's Degree in Theology from the Pontifical Gregorian University in 2003, and Bachelor's Degree in Missiology from the Pontifical Urban University in 2004. He took his vows as a Comboni Missionary in 2003 in Rome and was ordained a priest in September of 2004.
Carlassare became Vicar in the Holy Trinity Parish of Old Fangak County, South Sudan in 2006, and for the next fifteen years served in numerous offices throughout the country, most recently as the Vicar General in Malakal Diocese from 2020 to 2021.
Shortly after his appointment as Bishop of Rumbek, Bishop Carlassare suffered gunshot wounds to his legs one night in his home in what was believed to be a targeted assault. He credits God that he was not mortally injured, saying "God really blessed me. He protected me from worse injuries."
Following hospitalization in Nairobi and a stint in Italy to recover from his injuries, the Bishop returned to serve in South Sudan, noting that his return was a demonstration of reconciliation, forgiveness, and new beginnings – a message he hopes to promote throughout the divided nation. In an interview with the National Catholic Register, he said, "My coming back to the diocese [after a year of healing] was an expression of forgiveness, in the sense that it was an action of trust as a shepherd and trust toward the people."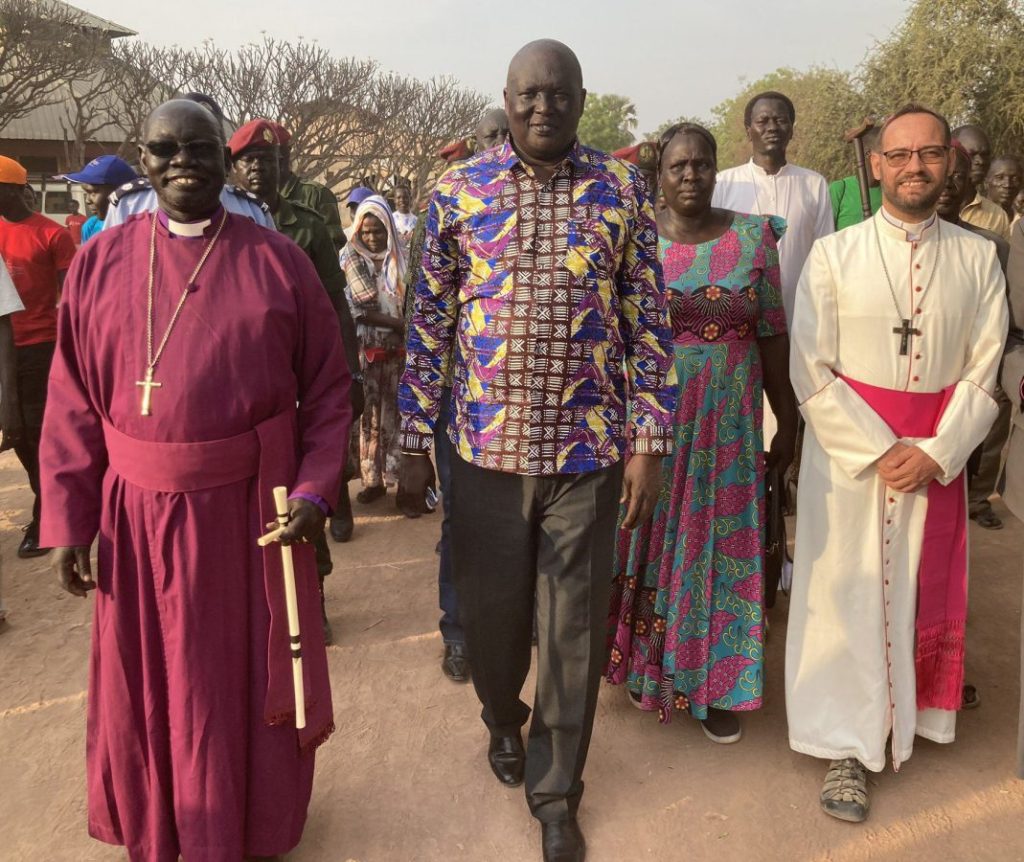 Perhaps nothing demonstrates this message more than the Bishop's trek in 2023, when he led a group of 60 young people and 24 adults in a walk of 250 miles over nine days to meet Pope Francis, during the pope's historic visit to South Sudan. The Bishop referred to the journey as a "Walk for Peace" and noted how the young people, who stopped and met villagers all along the way, were writing a new chapter toward reconciliation for the future of the country.
"People responded by joining us…walking together…hundreds if not thousands of people who felt like we need to join together…It was a powerful encouragement and hope for them."
Bishop Carlassare says he feels "adopted" by the nation of South Sudan, that his experiences have only served to help him "bear the wounds" that people of the nation suffer, and affirmed his vision that "together we can do great things and bring change."
Bishop Carlassare shared, "I am so grateful to God for my vocation, sharing the journey with the people of this country, and the journey of the Church within this country. I feel I receive so much especially from the people of faith in South Sudan…they are humble and strong at the same time. So when the desire of the Pope to make me Bishop of Rumbek [was announced], I just felt to give back to the people all that I am and to be fully consecrated to them, that is the meaning to me of being a bishop at this time, in this country."