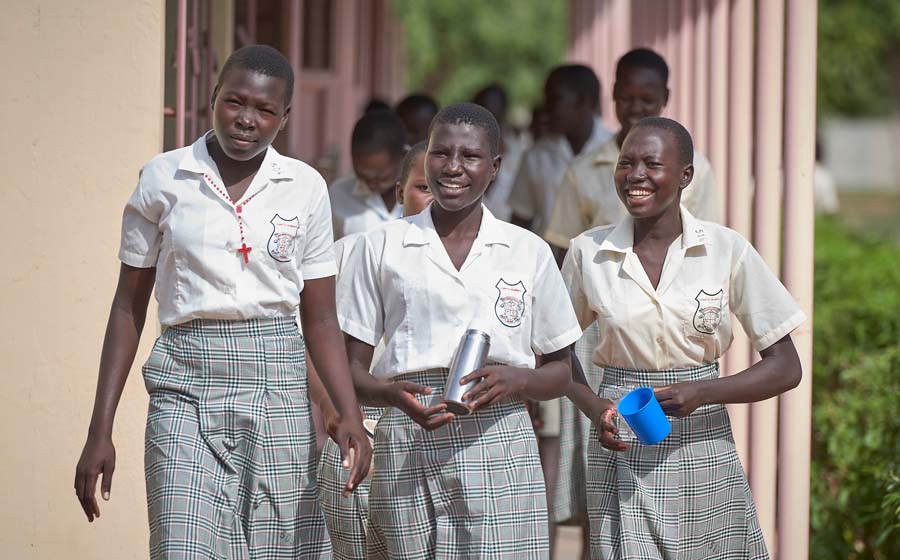 Loreto Rumbek Schools Update
from Principal Sr. Orla Treacy
October was a month marked with cheer, good news, and positive developments for the Loreto Rumbek schools.
Rainy Season Ending
The rains are slowing down, and cessation of the rainy season typically brings a welcome drop in malaria outbreaks. Thankfully, the campus health clinic is equipped to treat students and staff, due to the generosity of donors whose support supplies needed medicines to battle the ubiquitous disease.
Distinguished Academic Achievement
The much anticipated results of academic exams and rankings arrived this month. Loreto Rumbek was thrilled to learn their 2021 graduating class took first place in the state, and third place in the national rankings for the government exams. This includes both the boys' and girls' schools. There was much celebration, with acknowledgement extended to the hard work of the students as well as the dedicated teachers to achieve this distinction.
International Day of the Girl Child
Loreto Rumbek campus hosted this year's International Day of the Girl Child. Female students from schools all around Rumbek came together to support one another and explore what they can do to effect change in the future. Girls from Loreto Rumbek presented a powerful poem entitled, "Roll Call," which speaks boldly to the challenges girls face in South Sudan.
New Counselor at the Clinic
The health clinic is very happy to welcome their newest staff member, Anne Loria, who will work as a counselor to help students who need guidance or support. She is also a registered nurse. The campus is grateful to have her onboard.
Teacher's Day
The role of teachers as nation-builders through their contributions as mentors, guides, and knowledge givers, was honored during the annual Teacher's Day celebration. It was a colorful and festive event, and further heightened by the good news which arrived that day of the school's excellent state and national ranking achievements. Loreto Rumbek schools is especially grateful to their teachers who remained on campus to continue serving last year despite the pandemic challenges.