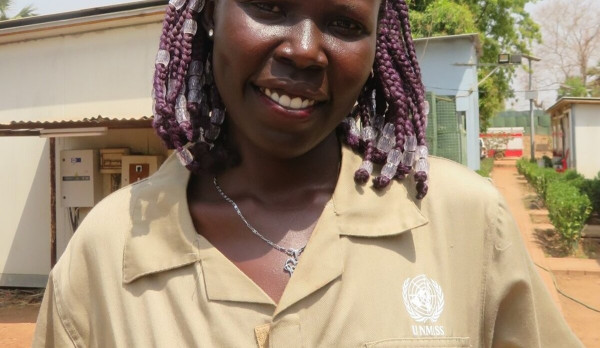 New Bishop, Special Visitors, Highlight Month of March at Loreto Rumbek Schools
March saw many visitors and lots of activity at the Loreto Rumbek Schools. The highly anticipated ordination of Rumbek's new bishop, Christian Carlassare, took place amid much ceremony in the city on March 25th. The event was attended by visitors and dignitaries as far away as Italy, in addition to a large contingent from all around South Sudan. He is the first bishop to be officially appointed to the area in more than ten years. Bishop Carlassare spoke to attendees with a message of forgiveness, trust, and new beginnings.
The school received the Irish Ambassador to South Sudan, Nicola Brennan, in early March. She and her aide, John Callaghan, toured the school compound and had the opportunity to see firsthand much of the work being done. School Principal, Sister Orla Treacy, has previously received honors by Irish dignitaries for her service to the school and local community.
In addition to the Irish Ambassador, members of the Mennonite Central Committee paid a visit in March. They met with students of the Peace Club and other individuals to see how their activities and efforts are being carried out at the school.
What more can be done to help students be successful? That's a question leaders of Loreto Rumbek Schools consider continuously. In March, a feasibility study was done to assess a potential plan for a new educational center onsite for graduates. The purpose would be additional skills training to enhance job opportunities and promote graduates' ability to become self-sustaining in their occupations.
One such successful graduate is alumna, Sophia Piath Martin. Hailing from the Class of 2015, Sophia went on to achieve the unusual occupation for a woman as a plumber for the United Nations Peacekeeping Mission in Rumbek. "Everything begins with education and skill-building," she says. "Women and men have the same abilities, it is just that boys traditionally have more access to education as well as employment opportunities."
Loreto Rumbek School for Girls is pioneering ways to shape successful futures for young women in this nation. Read Sophia's story here.