Passing the Baton
Saying Goodbye to a Beloved Partner and Welcoming a New Sister
Sister Anne Wandia poured her heart and soul for years into caring for the poorest and marginalized on the frontlines of the challenging Wau refugee camps.
During her service, thousands of displaced people and desperate families found their way to the camps at Wau. Sister Anne Wandia never failed to be there offering lifesaving help – food, clean water, a place to stay, schooling for the children, spiritual and emotional support. Through it all, she helped traumatized, weary people gain the will and resources to start over.
Now Sister Wandia has been called to another country to serve people in need in a new capacity. "There are many happy memories in my mission," she said, "thanks to the support and help from Sudan Relief Fund."
Sister Anne Wandia's countless contributions will be remembered in Wau, their legacy being reflected through the many thousands of lives she has impacted for the good.
A New Chapter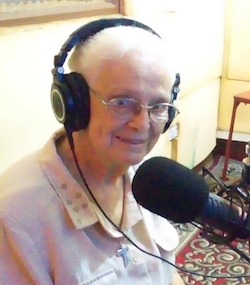 Sudan Relief Fund welcomes Sister Felicia Matola, who is coming to South Sudan to take on the challenges of the Wau refugee camps. But the challenge is not a new one for Sister Felicia. She has been a professed Franciscan missionary in Africa for 52 years.
Hailing from the United States, Sister Felicia decided when she was seven she wanted to become a sister. She was twelve when she set her heart to become a missionary. She trained for the sisterhood in the US, then spent time in the congregation's mother house in Ireland.
After that she headed to Uganda where she spent the following 25 years. Among others, she worked in a teacher training college, taught biology in Namagunga, lived among the Ituk in Usuk doing pastoral and youth work, and helped women in development.
The Franciscan Missionary Sisters for Africa (FMSA) have been working in five countries on the continent since 1903, including Uganda, Kenya, South Sudan, Zimbabwe, and Zambia.
Sister Felicia recognizes the challenges that accompany working in South Sudan and knows well the struggles. But she is determined to live out her life's mission in the region.
"It's very difficult to tell people 'God is love,' and then just get on a plane and leave, and come back when it's nice and cozy, and they have had to go through all the trouble. The fact that we stayed made a very deep impression on the people and I think it showed them we really did care about them and do care about them."