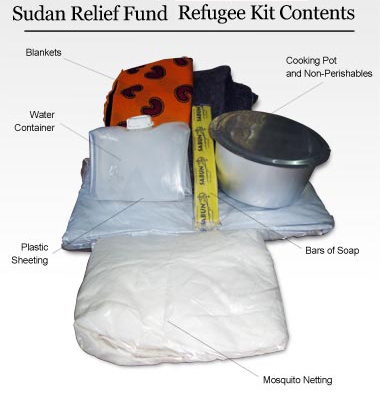 Refugee Kits for those Starving in the Sudan
Three years of civil war have brought the nation of South Sudan and its people to their knees. An estimated 50,000 people have been killed in the five years since the new nation of South Sudan was born. Countless numbers have been displaced. And more than 3 million are starving.
Soldiers have recently raided houses throughout the country in places like Wau and taken seeds away from people on the verge of starvation. It is a very tense situation. Because of security concerns, hardly anyone can cultivate. Brother Bernhard Hengl, of the Combine Missionaries, claims "A terrible famine will happen this year!"
Many people have lost everything. Villages and crops have been burned, and countless people have been forced to flee and hide in the bush. Here, they survive on twigs, leaves and water lilies. This, in spite of the fact that South Sudan should be a very fertile country. The Nile runs through South Sudan, and provides plenty of opportunity for cultivation. "South Sudan should be a country full of hope four years after gaining independence. Instead, it's now in the grip of a massive, man-made humanitarian crisis."
Thanks to the support of our generous donors we are one of the few organizations that have remained in South Sudan. 1 of every 5 people in South Sudan have been displaced. A major initiative of ours has been delivering refugee kits to the people on the ground. Each kit contains a cooking pot, four plates, four mugs, four spoons, one cooking spoon, two sauce pans, one knife and a carton to pack it all in. Along with the refugee kits, we have also continued delivering sorghum and other food staples to the displaced.
The Sudan Relief Fund has served the people of the Sudan for 17 years. We've been bringing water, food, shelter, and the message of Christ's love to the people of South Sudan. We've drilled bore wells, provided medical supplies, built schools, and trained teachers and catechists. And have provided what shelter we could for a generation of South Sudanese displaced by war.
But, because of the crisis happening right now, we've concentrated our efforts on delivering food and refugee kits. These kits have proven essential for so many displaced people. Without it, many would not be able to survive. This is a catastrophic crisis unlike any seen since North Sudan's genocide against the people in neighboring Darfur.
Click here for a video of Dr. Tom explaining the importance of these refugee kits. Dr. Tom Catena, as many of you know, has been serving the people of the Sudan in the Nuba Mountains for almost ten years. He is the lone doctor at the Mother of Mercy Hospital that serves people throughout the region.
If you would like to help us deliver refugee kits, please click here.