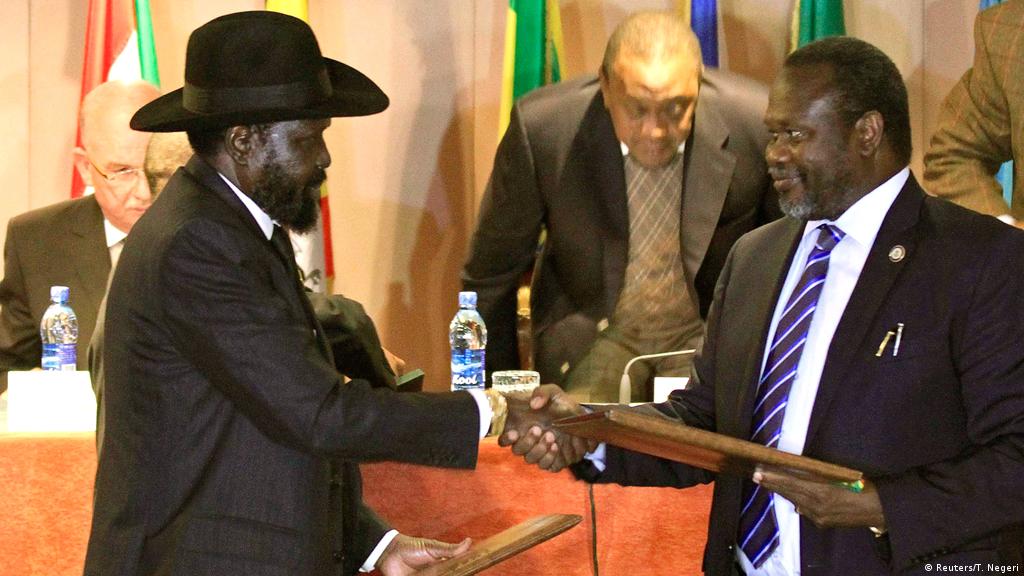 SOUTH SUDAN PEACE TALKS REACH APPARENT BREAKTHROUGH
Warring Parties Set Timetable to Form Transitional Government and Cease Fighting
---
By NICHOLAS BARIYO
South Sudanese President Salva Kiir and rebel leader Riek Machar agreed to form a transitional government in the next 60 days, a big step in efforts to resolve a devastating six-month conflict in the world's youngest nation, mediators said on Wednesday.
Government and rebel negotiators are slated to start talks on the formation of a transitional government of national unity on Thursday in the Ethiopian capital, Addis Ababa, according to a communiqué issued by the heads of state from East Africa's regional trade bloc, the Intergovernmental Agency for Development, or IGAD.
The warring parties have 60 days to complete the talks and are also required to cease all military operations during the negotiations—or face punitive sanctions.
For the first time since the conflict erupted in December, IGAD leaders threatened late Tuesday night to impose sanctions on both parties.
The threat of sanctions, which diplomats said could include asset freezes and travel bans, came at an emergency summit in Addis Ababa and underscores the region's growing frustration with South Sudan's warring parties, which have violated previous cease-fire deals.
Although South Sudan's political rivals have committed to the 60-day road map, those close to the conflict remain skeptical another promised cease-fire can hold.
"The leaders need to act swiftly on their promises by calling on their troops to lay down their arms immediately," said Oxfam's South Sudan country director, Cecilia Millan. "The people of this country have been forced to endure too much in the past six months."
The conflict has also drawn in Uganda, and diplomats have singled out the presence of Ugandan troops as an impediment to peace.
Ugandan President Yoweri Museveni, who deployed troops to support a government offensive against rebel fighters shortly after the outbreak of the conflict, attended direct talks between the warring factions, the Ugandan presidency said.
James Gatdet Dak, a rebel spokesman, described Mr. Museveni's participation as "a very good sign" for the peace process. It signals, he said, that interested parties "will now address the root causes of the crisis."
But even as IGAD heads of state discussed the conflict, the United Nations mission in South Sudan said heavy gunfire and mortar shelling rocked Malakal, the capital of oil-producing Upper Nile state. The U.N. accused government officials of using a radio station in the oil hub of Bentiu to deliver threatening messages to civilians.
South Sudan's military said it was investigating the allegations.
South Sudan's oil regions have seen some of the heaviest combat since the conflict erupted and crude production has since dropped more than 30%, to 160,000 barrels a day, a severe blow to the country's economy.
Messrs. Kiir and Machar agreed to form a transitional government in May, in a U.S. brokered deal, where they also signed a second cease-fire deal, after the previous one failed to hold. Sporadic fightinghas since continued, raising fears among aid officials that the ethnically charged conflict, in which more than 10,000 have been killed, could escalate into genocide.
Messrs. Kiir and Machar attended the IGAD summit and held face-to-face talks for the second time since the conflict erupted.
They agreed to recommit to the two previous cease-fire deals and allow unhindered humanitarian access to more than one million people who have been displaced.
In May, the U.S. Treasury Department ordered asset freezes and travel bans on Peter Gadet, a rebel commander loyal to Mr. Machar, and Gen. Marial Chanuong, head of Mr. Kiir's presidential guards, for their role in the conflict.
The U.S. accuses Gen. Chanuong of ordering attacks against civilians in and around Juba shortly after the outbreak of the fighting. Mr. Gadet is accused of leading rebel forces during an assault on the oil hub of Bentiu in April that killed more than 200 civilians.
The Wall Street Journal
June 12, 2014
pg. A9
http://online.wsj.com/articles/south-sudan-peace-talks-reach-apparent-breakthrough-1402473616#