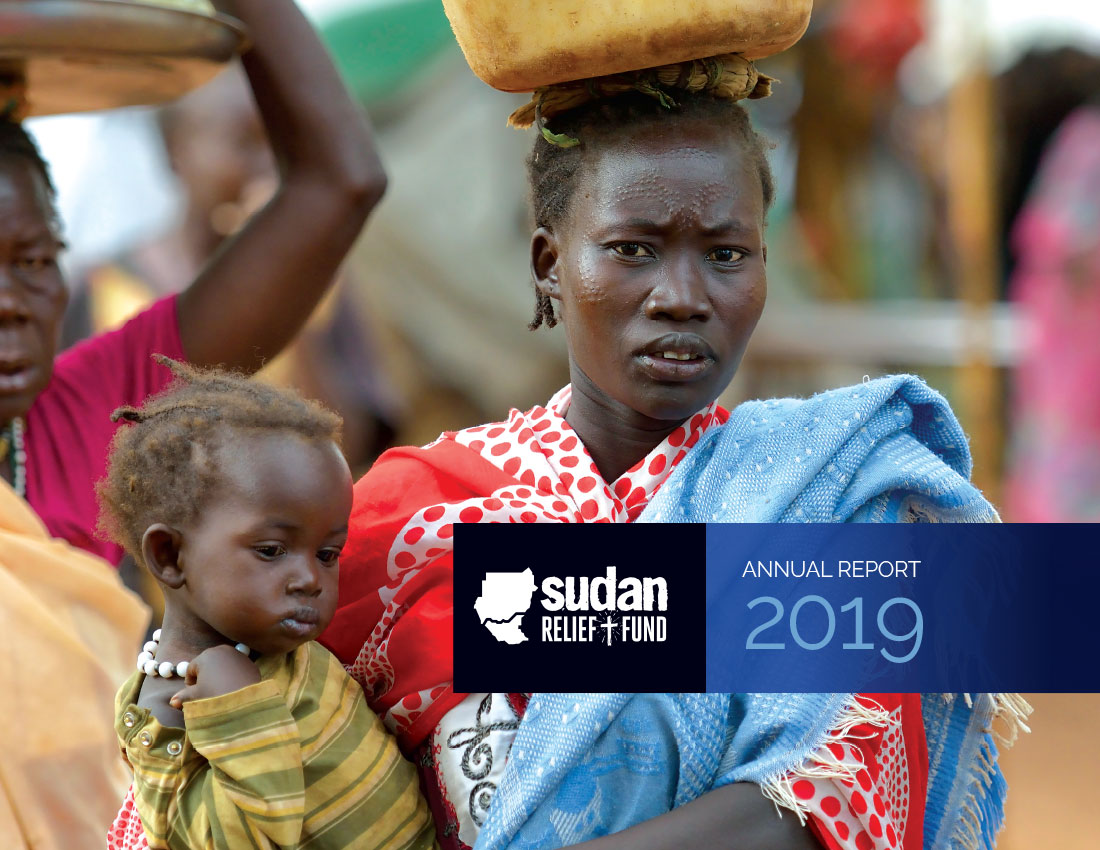 About
Sudan Relief Fund (SRF) is a U.S.- based 501(c)(3) nonprofit that serves and strengthens the people of South Sudan by providing food, water, clothing, and medical aid; and by developing institutions of civil society to promote peace and stability for South Sudan's future generations.
SRF envisions a peaceful and prosperous South Sudan with a strong infrastructure and the ability to meet the most basic human needs of its citizens. Currently, 4 million people are displaced from South Sudan. Our mission is to return South Sudanese refugees to a country safe from systemic violence with the opportunity to become a stable nation. Our vision is one of a self-sufficient country with thriving schools, hospitals, governing bodies, and programs that empower the South Sudanese people to maintain their independence and peace. Ultimately, we work towards developing a country able to achieve peace, prosperity, and stability in both the short and the long term.
For over two decades, Sudan Relief Fund has united a community of philanthropic partners like you to give generously and thereby make a transformational difference in thousands of lives in South Sudan and the surrounding region.
President's Message
Dear Friends in Christ,
Due to the millions who remain displaced in random settlements and refugee camps, as well as continuing political uncertainty and resulting shortages of food, fresh water, and medicine, Sudan Relief Fund's mission is as urgent as ever. Yet, thanks to your continued generosity this past year, our mission continued to grow, and our circle of partners and collaborators widened. In fact, in 2019 we invested over $3.3 million into a number of critical projects to help the many South Sudanese who remain in dire need.
And the needs in South Sudan remain complex. SRF continues to support projects underway within South Sudan, the Nuba Mountains, and the large South Sudanese refugee camps in northern Uganda. Our team and trusted partners are making great headway in providing emergency food relief, freshwater wells, latrines, and medicine even as our investments in medical care centers, schools, and other crucial institutions continue to grow and bring healing and education to those who are suffering.
The complexity and urgency of the situation was a major theme of Bishop Eduardo Kussala's trip to the United States in October of 2019, during which he met with policymakers in Washington, D.C. and a wide range of media, leaders, and supporters. Bishop Kussala has emerged not only as a leader in South Sudan due to his moral courage and clarity, but also as an advocate for his people abroad, though he rightly remains with his people the vast majority of the time. His passion and precise analysis of the situation was well-received by influential people in the nation's capital, who normally only hear about South Sudan from briefings and white papers.
Bishop Kussala said in so many of his interviews and speeches: Please do not forget South Sudan. That message could not be more relevant today. The onset of COVID-19 in South Sudan has resulted in a complete lockdown throughout the country. Throughout the region, people are living from hand to mouth with no running water. There is a constant fear of starvation. The upcoming year will be one of the most challenging this young country has ever faced—and I know that as a generous supporter of Sudan Relief Fund you will not forget South Sudan. I am deeply thankful for your sacrificial gifts and continued support. We could not bring so much relief and hope to our brothers and sisters in Christ without you, and for that, I thank you.
Yours in Faith,

Neil Corkery
Program Spotlights
Sudan Relief Fund is active in the lives of thousands of people in South Sudan. These spotlights on refugee aid, healthcare, and education showcase just a few of the highlights from 2019.
Health and Medicine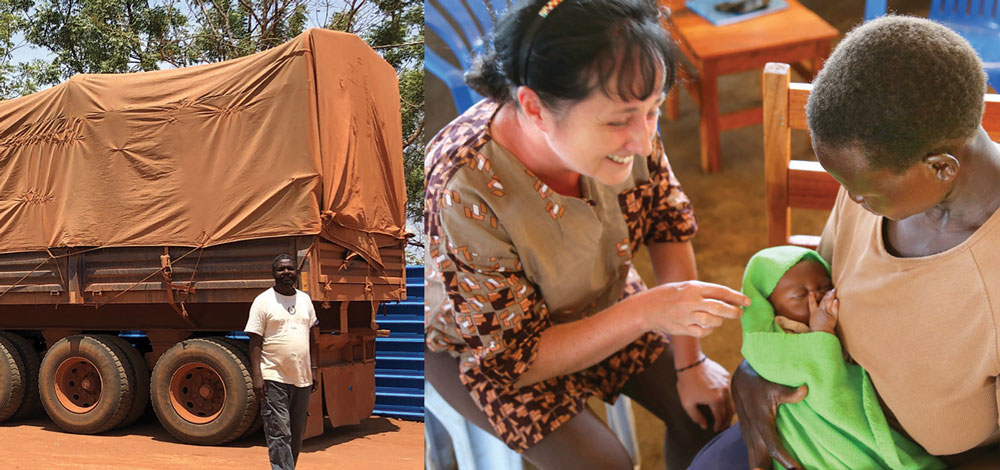 With your generous support, Sudan Relief Fund and its partners have saved many thousands of lives and have made major progress in increasing the quantity and quality of healthcare services in the regions where we operated in 2019.
In total, nearly $900,000 was allocated to lifesaving healthcare projects. The primary example is the extraordinary work happening at Mother of Mercy Hospital in the Nuba Mountains. Dr. Tom Catena and his team typically serve hundreds each day in search of healing with needs varying from bandages and malaria pills to lifesaving surgery for grave injuries and hydrocephaly. And the situation on the ground is changing, along with the possibilities. Due to recent disruptions in Sudan's political leadership, bombings that long targeted Christians in the Nuba Mountains have stopped. Dr. Tom and his team, while they continue their heroic efforts to save lives, have begun expanding Mother of Mercy Hospital. Shipments to the area now include construction supplies such as cement and lumber, along with medicine, for which SRF is the primary supplier. In addition, we are currently building a convent for the Banyatereza Sisters, Daughters of St. Therese of the Child Jesus. These missionary sisters are moving from Uganda to Gidel to provide essential support at Mother of Mercy Hospital.
Because of your giving, we are also able to continue funding medicine for Dr. Ahmed Zacharia's El Gigaiba Hospital in the Nuba Mountains. Like Dr. Tom, Dr. Ahmed is the only doctor for hundreds of miles, so his patients often walk for days seeking care.
St. Theresa Hospital, a health center in Nzara focused on maternal and childcare, has a new surgery center and blood bank, as well as an expanded maternity ward. And while the opening ceremony has been postponed, the health center is in full operation and is helping save lives every day.
In addition, SRF continued to fund the work of Nurse Noeleen Loughran in 2019. She brings her trademark compassion and expertise, along with much-needed medicine, to one of the largest refugee camps in the world. Bidi Bidi, an expansive settlement in Northern Uganda, currently holds more than a quarter million of the approximately 4 million who have been displaced by South Sudan's conflicts and ongoing insecurity. Among her many initiatives, Noeleen has launched an "eye camp," bringing in professionals and supplies to heal those with cataracts, and those who need glasses. And her locally famous suitcase full of medicine is now often accompanied by other boxes full of lifesaving drugs and supplies due to the generosity of SRF donors like you.
Refugee Aid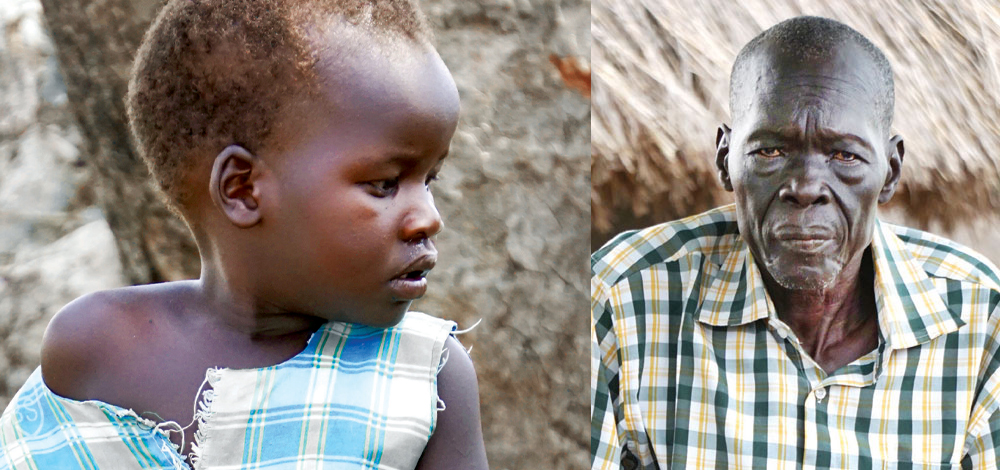 I'm pleased to share that in 2019 Sudan Relief Fund provided over $1.12 million to essential aid for refugees displaced from their homes. As mentioned previously, Nurse Noeleen plays a critical role in this work with refugees. An innovative and passionate soul who rarely rests, Nurse Noeleen not only heals hundreds of patients each week at Bidi Bidi, she has also launched a sewing training program, a soccer league for boys, and a Bible study. Her work among the refugees thus goes beyond healing their physical ailments—she creates opportunities for those who have suffered traumas to find healing and, for some, to reclaim some sense of normalcy.
Given the ongoing violence of early 2019 in the Wau region of South Sudan, the Comboni Mission was forced to relocate to northern Uganda, not far from the large refugee camps that provide some protection, if not adequate care, for the hundreds of thousands of South Sudanese refugees in the region. Your support of SRF made the successful move possible.
In addition to the school that they have established, the Sisters have launched training programs in agriculture, carpentry, metal work, weaving and tailoring, and other skills training. The hope is that, with the ongoing insecurity in South Sudan, the families in these massive refugee camps can create a local economy that might improve their longer-term prospects as they use their skills to help one another.
SRF also funded the work of Sister Anne Wandia and the Franciscan Missionary Sisters for Africa. The refugees in this region have lost everything and have suffered traumas most of us can't imagine. With projects that reflect the full range of Sudan Relief Fund's priorities, the Sisters provide everything from emergency food relief, medicine, and hygiene products to educating nearly 500 children from the Agok refugee camp. The Sisters also bring aid and care to a community of hundreds in the camp suffering from leprosy and to a community for elders who have become separated from their families.
Education
Sudan Relief Fund remains committed to investing in education efforts, and in 2019 SRF provided over $1.35 million in education funding.
SRF continues to fund the Abangite High School in Yambio, which brings together students from different clans and tribes within the region and provides an environment where the students learn to live and study together. The school is promoting unity among students while also respecting differences, so as to contribute to the vision having a peaceful South Sudan. Because of your generous support of Sudan Relief Fund, we were able to build several classrooms from the ground up and pay the salaries of the teachers.
The school has several objectives: To provide a quality education to students in the Diocese of Tombura-Yambio, to eliminate gender inequalities by promoting education for girls, to properly train and incentivize the teachers for excellence, and to motivate students to become selfreliant and visionary in their quest for knowledge.
SRF has also partnered with Solidarity with South Sudan to run the Catholic Health Training Institute (CHTI). Because CHTI's students are accepted from all parts of South Sudan and the Nuba Mountains, the headmaster, Sister Rose, has developed a talent for getting students from different tribes to work together. On average, 110 students are enrolled in the three year curriculum as full-time, residential students. 60 percent of these students are young women, whose participation is a priority. Graduates from the CHTI are recognized for the quality of their training and many people are benefitting from their skills and commitment to quality care.
In 2019, the Catholic University of South Sudan in Juba had 1,800 students enrolled, among whom were 42 women who received scholarships from Sudan Relief Fund for food, books, and supplies. We also funded a walkway around the campus to improve the safety of the university.
Finally, with your help we continue to support the Missionary Sisters of the Blessed Virgin Mary, also called "Blue Sisters," to improve and expand their convent, as well as the facilities of the primary and nursery schools they run in association with the St. Josephine Bakhita orphanage in Yambio.
Partner Spotlight
Bishop Kussala Comes to America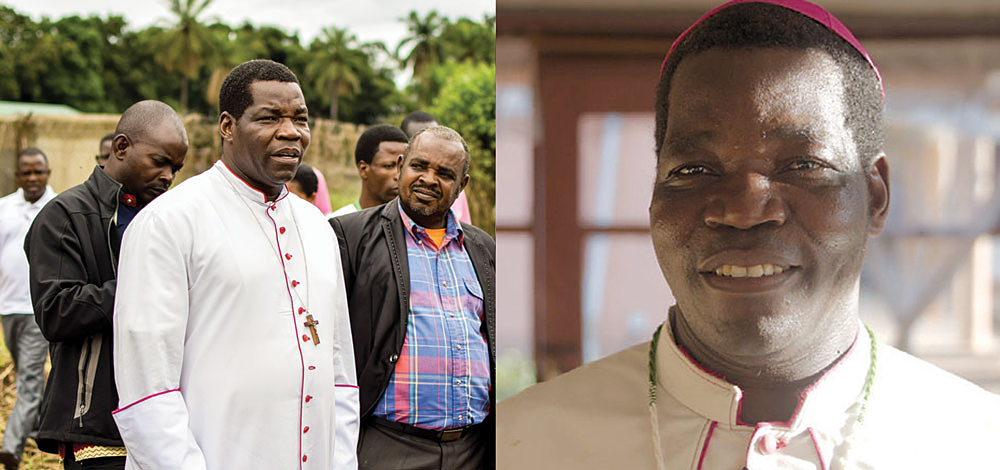 Sudan Relief Fund's partnership with Bishop Eduardo Kussala has been a tremendous blessing. For us, as for his people, he has been a model of strength, consolation, and resolve. Few leaders have the personal background, his hardearned on-the-ground perspective, and the broader understanding of the difficulties South Sudan is facing. So, in October 2019, we were honored to help him bring his message of concern and hope to the United States to meet our supporters, policymakers in Washington, D.C., and key media.
Throughout his trip, Bishop Kussala often expressed his gratitude to Sudan Relief Fund's donors, like you, who provide not only resources for the most basic human needs, but also hope for a suffering people. All that he met were moved by the hope and peace that he radiates—even as a man who lost his own mother to violence, who grew up in a refugee camp, and who has been held at gunpoint multiple times while trying to rescue child soldiers from lives of despair.
During his visit, he spoke with TIME magazine, America magazine, EWTN, Bloomberg Urban Business Report, and the Philadelphia Tribune. His passion for his people and his desire to achieve lasting peace in his country were evident in every conversation. He also met with a number of government officials and committees, including the Council on Foreign Relations, White House staff, Senate staff, the Commission on Sudan and South Sudan Peace Issues, and the National Security Council.
Foreign policy professionals sometimes receive briefings and security updates on developments in Sudan and sub- Saharan Africa. But it is much more impactful for a man of the Bishop's stature to share with U.S. officials the passion and energy of his people, and how things really are on the ground. He also shared some ideas on how our government can support, and not inhibit, the peace process and development in South Sudan.
Sudan Relief Fund is proud to partner with Bishop Kussala. Alongside the bishop and our other partners, SRF is working toward creating a stable, growing, developing, and peaceful South Sudan, a land to which we pray the 4 million currently displaced persons can safely return to their homes, and where they can prosper in peace.
Financials
Our work to bring hope to those in need throughout South Sudan is only made possible through the support of our generous network of donors. This past year alone, SRF invested $3.3 million in life-changing and lifesaving programs.
Those funds went toward both existing commitments as well as new projects throughout the region. Our partnerships on the ground include various Catholic dioceses in the country, the Sudan Catholic Bishops Conference, Catholic Medical Mission Board, the work of Dr. Tom Catena, Nurse Noeleen Loughran, and Solidarity with South Sudan. In 2019, Sudan Relief Fund received substantial support from a number of generous individuals, including Dr. C. Louis Perrinjaquet. Fr. James Anderson, MSA, Dr. James and Patricia Melluish, William and Shirley Fletcher, Martin Smith, and Carlos Baldor. Sudan Relief Fund also received generous support from the Raskob Foundation for Catholic Activities, Inc. and the Scripps Foundation, among other institutional supporters.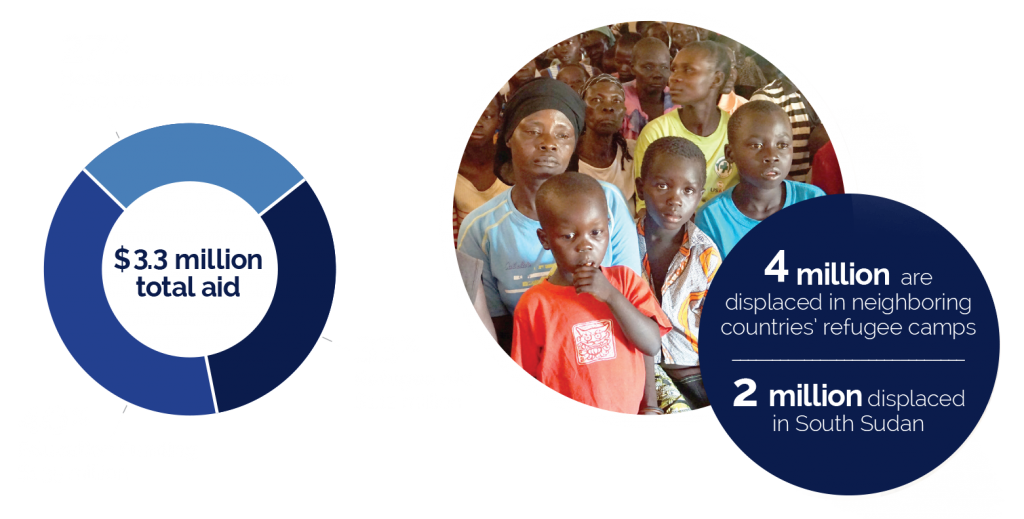 Meet the Team
Bishop Eduardo Kussala
Bishop of Tombura-Yambio diocese in South Sudan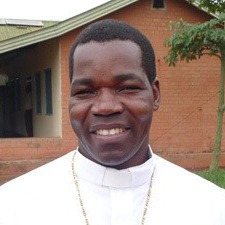 Eduardo Hiiboro Kussala is the Catholic bishop of Tombura-Yambio Diocese in South Sudan. When he was nine months old, his mother was killed when their village was attacked and destroyed. He lived with his grandmother in a refugee camp for five years. When they returned to Sudan they lived in the Sudanese Internal Displaced Persons Camp. These early experiences shaped Bishop Kussala's passionate dedication to peace.
During the Sudanese Civil War, he was involved in providing pastoral services to over 42,000 Sudanese refugees in the Central African Republic, and he was head teacher of a secondary school in the refugees' camp. In 2008, Pope Benedict XVI appointed him bishop of the Diocese of Tombura-Yambio, and in 2017 Bishop Kussala was appointed the president of the Sudan Catholic Bishops' Conference. This past year, Sudan Relief Fund funded two trips for Bishop Kussala and the Catholic Bishops Conference to visit the South Sudanese refugees in Ugandan refugee camps.
Bishop Kussala holds Master's degrees in Bioethics, Government Politics, and International Relations, and a PhD in Moral Theology. He is the author of several articles and three books. His latest book, Reconciliation, Healing and Peace in South Sudan: Reflections on the Way Forward, focuses on the importance of learning from the mistakes of the past to prevent them in the future. He emphasizes that faith plays a fundamental role in the process of preserving the nation for future generations.
Neil Corkery
President, Board of Directors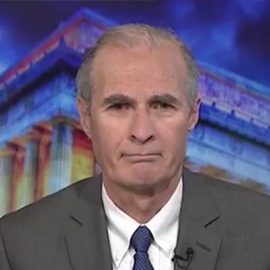 Neil has served as the President of the Board of Directors of Sudan Relief Fund since 2013. Prior to that he served for eight years as Executive Director of SRF. During his long service to SRF, Neil has traveled frequently and extensively to South Sudan. This has provided him the opportunity to develop close working relationships with the bishops both in Sudan and South Sudan; in particular, the President of the Sudan Catholic Bishops Conference, Bishop Eduardo Kussala; and Bishop Tombe of the Diocese of El-Obeid in the Nuba mountains. Neil has also built effective partnerships with numerous groups working in the country; especially Solidarity with South Sudan; Aid to the Church in Need; Catholic Medical Missionary Board; and various religious congregations working in the field, such as the Comboni Missionaries, the Jesuits, the Congregation of Christian Brothers, the Congregation of the Holy Spirit (Spiritans), and various Franciscan communities.
David Dettoni
Director of Operations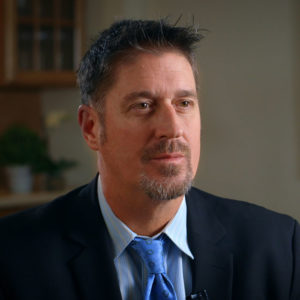 David currently serves as the Director of Operations for Sudan Relief Fund. Previously, he served as the Director of Operations and Outreach at the United States Commission on International Religious Freedom. He also has federal legislative experience and an MA in Theology. He has led many delegations to Africa and is widely respected for his on-the-ground knowledge. David's experience includes testifying before Congress on the current state of South Sudan, raising awareness and increasing knowledge about the struggles and extreme conditions facing people in South Sudan.
Brendan Gotta
Director of Stewardship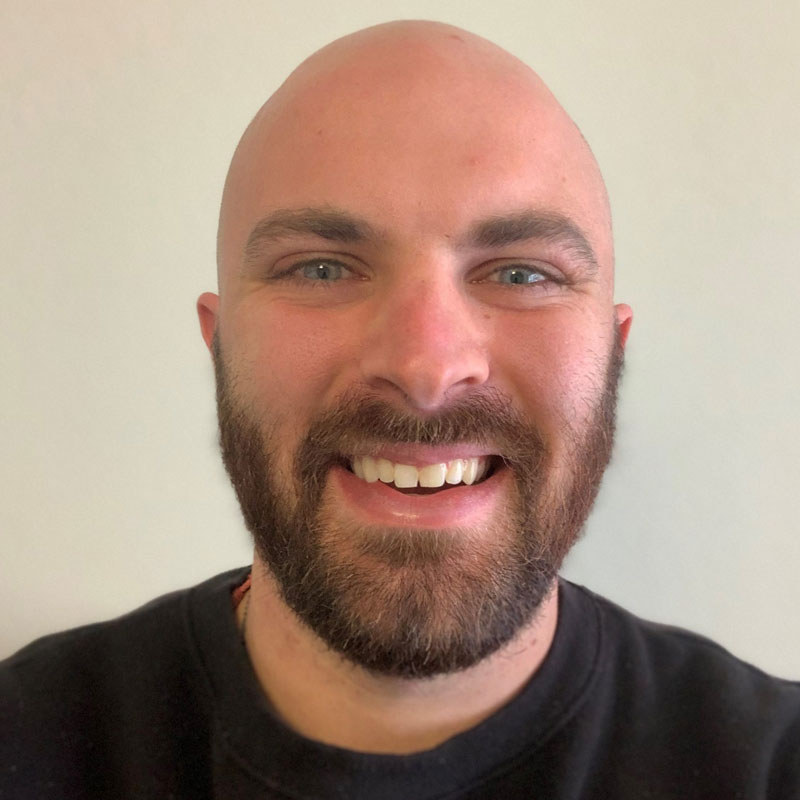 Brendan Gotta is the Sudan Relief Fund Director of Stewardship. A graduate of Franciscan University, he previously served as a Major Gift Officer for Dynamic Catholic, and before that, he was the Director of Young Adult Ministry for the Diocese of Arlington (VA). A few years prior, Brendan's older brother took a life-changing year of service to South Sudan. When Brendan heard about Sudan Relief Fund, he decided to follow his brother's example and serve those who are deprived of the safety, education and opportunities that are so easy to take for granted in the United States. Brendan's greatest passion is hearing the stories of lives and communities changed as well as the inspiration of those that make these changes possible.