Saving Children from Forced Marriage
They have no voice. Speak up for child brides.
Last year 4 million young girls were taken against their will to be child brides. In South Sudan, 10 girls every week are subjected to forced marriages. Traded for cattle, they're seen as property and often land in abusive situations with nowhere to turn, no one to speak for them. They have no choice. But we do. Find out how you can help save a young girl today.
Denied A Voice of Their Own – Who Will Speak Up for Them?
Adut was only fourteen when a man three times her age came to talk to her parents. They were discussing how many cows she would be traded for. It was known as a booking. Her father who traveled for work was away, but her uncles had authority to speak for her.
Within a few minutes a deal was reached. The man, nearly the same age as her father and a complete stranger, left. He would return later to collect his property – referring to his fourteen year-old bride. And just like that, her future was determined.
Adut was a bright girl who did well in school. She wanted to be a teacher. Now Adut would likely be bearing children by age 15. If she was fortunate, she would survive childbearing in a hut with no medical supervision and escape the tragic statistic that haunts girls in South Sudan – that they are more likely to die in childbearing than to complete their education. Only one in ten girls finishes primary school here. Sadly, Adut's dreams of being a teacher were shattered that fateful day.
Statistics on Forced Marriage
Over 50% of girls are married before their 18th birthday
Nearly 10% of girls are already married by their 15th birthday
28% of child brides become pregnant before reaching adulthood
Domestic violence is prevalent among child brides
Refusal can result in abuse, exclusion from society, and even imprisonment
---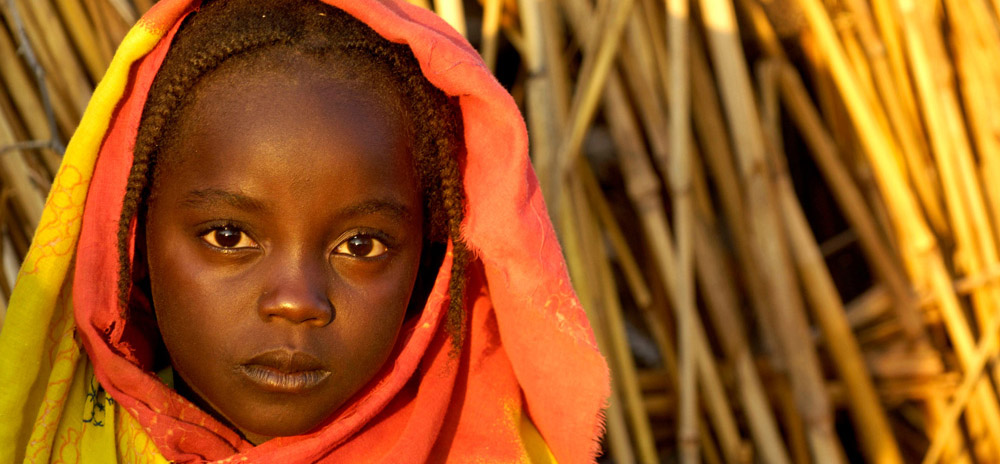 Will she be allowed to grow up? Child brides traded in forced marriages are robbed of their education, their dreams, and their potential.
Stripped of their Dreams and Dignity
The practice of forced child marriage still happens in South Sudan. Girls like Adut are helpless to refuse. If they protest or try to escape, they become an outcast, or worse. They can be forcibly carried away to another man's village who purchased her with a dowry of cows or supplies. She becomes completely dependent on a husband and ever vulnerable to the cycle of poverty.

Polygamy is still found in South Sudan also. Sometimes a child bride is the second or third wife to a man who may be seeking a younger girl with years of childbearing ahead.
The archaic practice of forced child marriage robs girls of their dignity, human rights, and potential. Sometimes even their health and future. Child brides start having children very young, which can lead to complications. Their plight contributes to South Sudan's childbirth mortality rate being one of the deadliest in the world.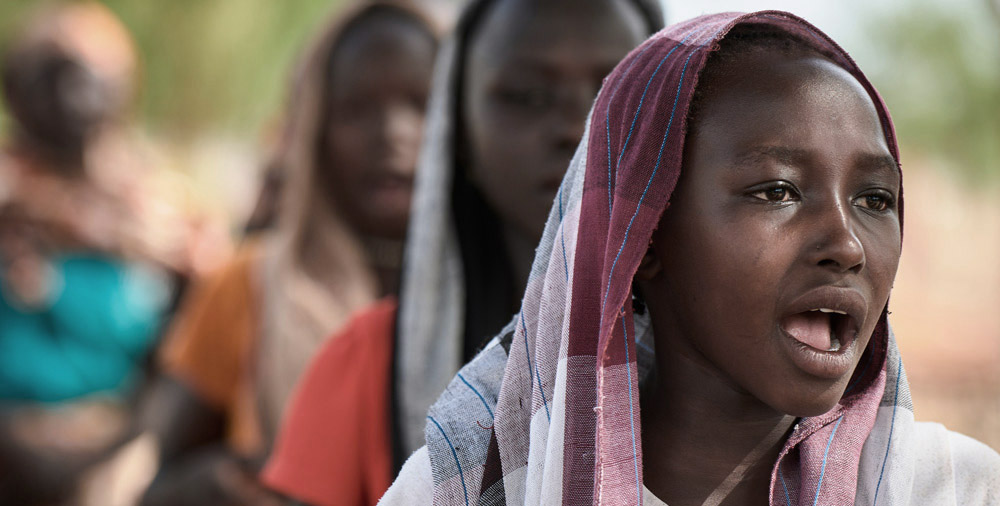 No voice of her own. Viewed as property, child brides can be trapped in abusive situations with nowhere to turn for help.
Domestic Abuse of Child Brides
Prevalent domestic abuse is another terrible snapshot of forced marriage, and not surprising when a child bride is viewed as property – nothing more than a commodity to be owned or traded. Victimized girls are trapped in abusive situations with nowhere to turn in a culture that traditionally looks the other way.
It's even been said here, "Girls are born so people can eat." Abject poverty drives parents to marry their daughters away as soon as possible. Receiving cattle in exchange for a daughter is seen as a way to survive. Perhaps the husband can provide for her better than they can. And now there is one less mouth to feed.

Sudan Relief Fund is committed to turning the tide on this tragedy. We don't believe a girl's life is measured by livestock, and we firmly stand against any efforts to force minors into marital servitude. With your partnership, we're fighting to protect girls' freedom and help them achieve lives of dignity and self-determination. Together we're making an impact.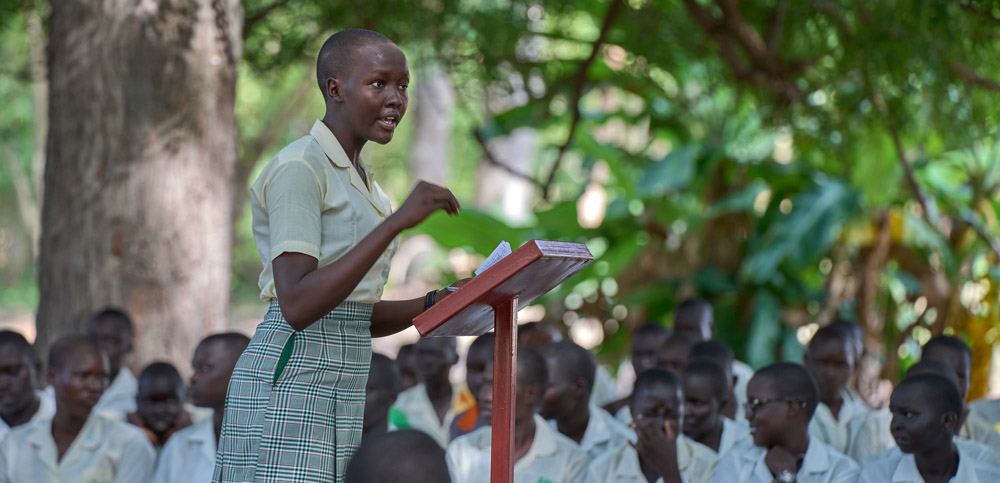 Changing hearts and minds. Students at Loreto Schools are demonstrating the value of a girl's education and inspiring other girls to pursue their own.
Changing Direction and Bringing Hope
Loreto Schools for Girls, directed by Sudan Relief Fund partner Sister Orla Treacy, is a driving force for change in South Sudan. In a country where girls' education isn't valued, the Loreto Schools are changing lives and demonstrating otherwise. With over a thousand girls enrolled, Loreto consistently turns out some of the highest test scores in the country.
Graduates are poised to go to college and universities. Many return with degrees to serve as leaders in their communities, becoming examples to other girls of what life can be like for them in South Sudan. They show families it's worth valuing a daughters' education, helping spark a cultural shift away from the old practices to a new way of thinking.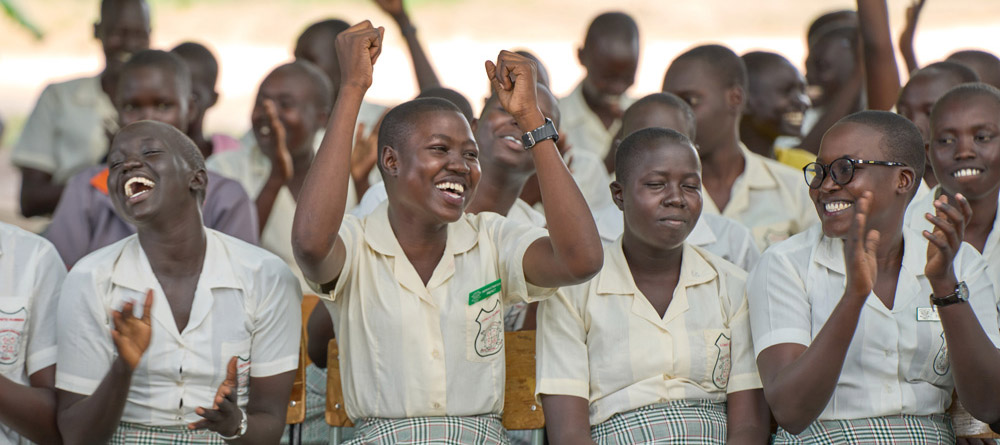 Smiling about the future. Many female graduates attend universities and return to serve as leaders and examples in their communities.
Success Stories
Examples are seen every year in Loreto's female graduates. Loreto Schools recently welcomed back their first alumna to become an attorney. After passing the bar exam, Elizabeth Adak now serves on the Regional Management Board in Loreto Rumbek. This month three alumnae returned from university to work as medical technicians at Loreto health clinic, serving the school and community. These young women are paving the way for other girls in South Sudan to pursue an education. At Loreto Schools they are protected from coercion into underage marriage.
Progress is happening because people like you are willing to take a stand for girls who have no voice of their own. Your support lets impoverished girls to go to school. An educated mother is empowered to better care for herself and her children. Educated mothers are one of the most influential factors in raising healthier, higher achieving children and breaking the cycle of poverty. You're making freedom possible for girls in South Sudan.


Will anyone speak up for her? She will remain trapped in the oppressive life of forced child marriage unless help comes from you and me.
Girls Need Our Help
It's likely Adut will never become a teacher now, her enthusiasm for learning wasted. But Adut's tragedy doesn't have to be repeated. No girl should be forced into motherhood before she's an adult and denied the chance to learn. Girls desperately need help to be freed from the oppression of forced child marriage. They can't do it alone.
Girls deserve a chance to grow up. To be valued and protected. Their lives are in the balance. Imagine the difference you can make in just one girl's life. Please make that difference for a young girl today.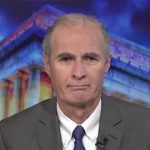 Sincerely,

Neil A. Corkery
President
---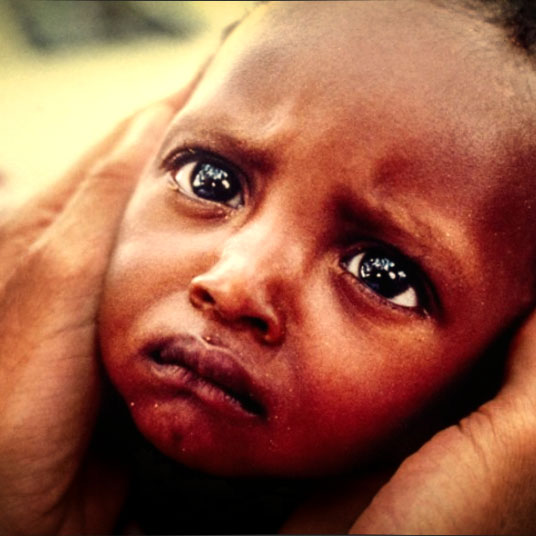 Increase Your Gift at No Extra Cost!
Did you know you may be able to double the amount of your gift without giving an additional dollar of your own? Thousands of companies participate in Corporate Match programs. This means they match dollar-for-dollar the amount their employees donate to charitable organizations – doubling your gift! Imagine creating twice the impact of your contribution.
Learn more about the Corporate Match Program.