Khamisa
Saved from a Deadly Disease
While a cough can be a harmless occurrence, it is sometimes a symptom of something much bigger. A few months ago, 60 year-old Khamisa of Khartoum began experiencing frequent coughs. In a short period of time these coughs escalated into uncontrollable coughing fits. The coughing became so serious it made her unable to eat or rest, and she also lost her appetite.
Khamisa went to a number of different pharmacies, clinics, and even a hospital in Khartoum. She received many drugs, but unfortunately none of them helped her condition to improve. With nowhere else to turn, Khamisa's son took her on the long trip to Mother of Mercy Hospital, located in the remote mountain region of Gidel. This hospital is supported by Sudan Relief Fund and directed by missionary doctor Tom Catena – the facility's sole surgeon.
When Khamisa arrived, she was admitted right away. The long, rough lorry ride from Khartoum to Gidel caused her right leg to become swollen and inflamed. After a series of tests, she was diagnosed with tuberculosis – a disease which is rare in developed nations but still highly endemic to Sudan. Khamisa was put on a protocol of TB medications, anti-inflammatory drugs, and pain relievers.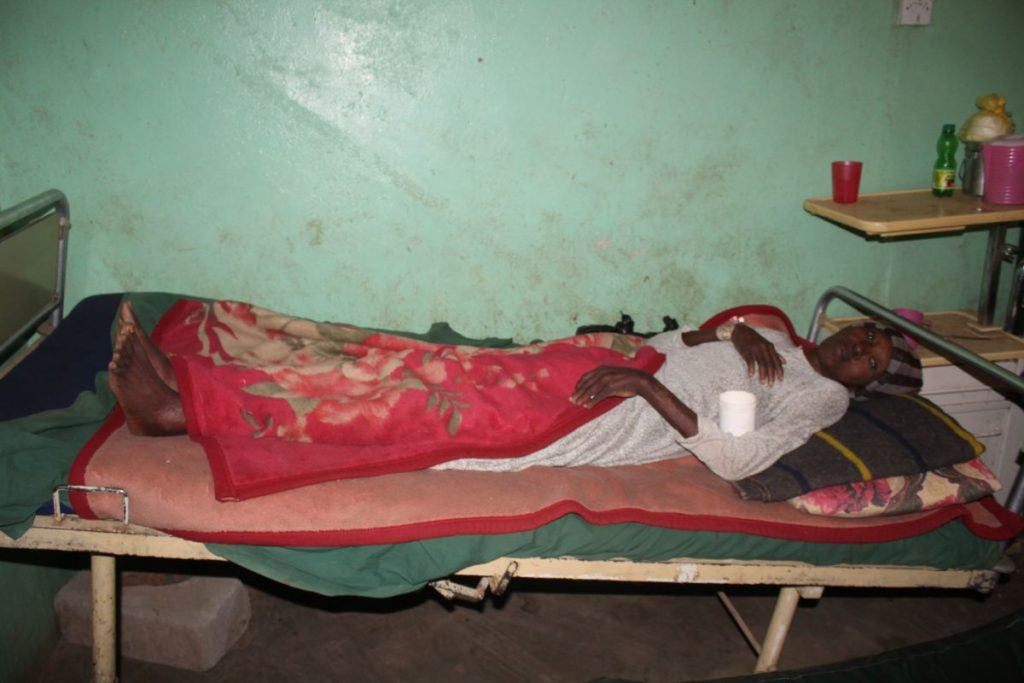 Her lifesaving treatment at Mother of Mercy Hospital has made a world of difference. Now Khamisa reports that she feels so much better. Her pain, cough, and inflammation have all reduced considerably, and only a tiny bump remains where her swelling on her leg occurred. She can enjoy eating well once again. She thought she was going to die en route to the hospital, because she had been so weak.
"I want to give my appreciation to the doctors and all those who contributed to my treatment," she expressed. "May God continue to use you."
Did you know you help to make these Lives Saved stories possible? They are achievable because of your support for hospitals like Mother of Mercy and other programs provided through Sudan Relief Fund.
---
Would you like to pray for this work? Sign up for our email prayer group. You'll receive weekly emails sharing important needs to pray for. Join a faith community around the globe praying to bring hope and help to suffering people in a forgotten part of the world. Click here to find out more.