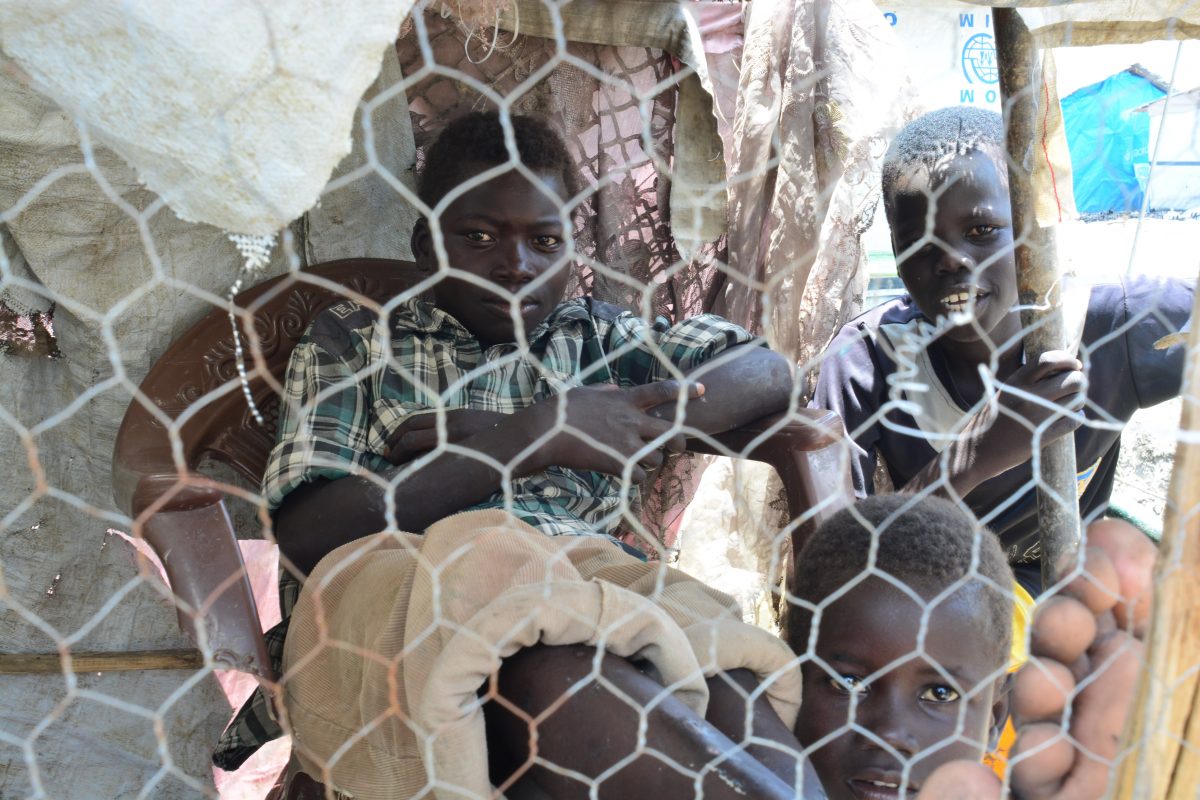 SOUTH SUDAN'S LOOMING DISASTER: FAMINE IN THE WAKE OF CIVIL WAR
About 50,000 children are at risk of starvation in the man-made crisis
---
IN MALAKAL, SOUTH SUDAN BY TY MCCORMICK foreign@washpost.com This reporting was made possible in part by the Pulitzer Center on Crisis Reporting.
Nyarony Choing is as old as South Sudan. And like the world's newest nation, she has been to hell and back before her fourth birthday. When civil war broke out eight months ago in Juba, the capital, Nyarony's mother fled with her three children, winding up in a refugee camp inside a base run by the United Nations in the northern city of Malakal. Every time it rains, which is often, the floor of their tent disappears under water, the thick, cloying mud of the Nile basin mixing with the human excrement that flows freely in the camp.
"The only thing worse than the conditions we are living in," said Nyabac Chan Yor, Nyarony's 26-year-old mother, "is the condition of my daughter."
Less than four years after South Sudan declared independence from Sudan, a milestone that successive U.S. administrations worked to bring about, aid workers are racing to head off a large-scale humanitarian disaster. According to UNICEF and the World Food Program, close to a third of South Sudan's population faces "acute" or "emergency" levels of hunger and malnutrition.
By the time Nyarony's family made it to the U.N. base, the 3-year-old was emaciated and suffering from acute malnutrition. Her feet had swollen to
nearly twice their normal size — the result of water flooding into excess vascular space as her digestive system shut down — and her muscles had all but wasted away.
Nyarony is now gradually recovering after receiving medical treatment on the U.N. base, but thousands of children remain stranded in remote parts of the country, where they are at risk of starvation. Aid agencies estimate that 235,000 children could become dangerously malnourished by the end of the year, and 50,000 of them could die unless they get treatment.
South Sudan's food crisis is almost entirely man-made. After eight months of civil war, about 1.1 million of its roughly 11 million people are internally displaced. Farmers missed this year's planting season because of the violence. Livestock, which accounts for as much as 70 percent of the calories consumed by some communities, has been looted, killed and scattered in the mayhem. River trade, which forms a lifeline for many towns and cities cut off from the capital by road during the rainy season, has ground to a virtual standstill.
The humanitarian situation is "getting [more] desperate by the day," Cosmos Chanda, the representative for the U.N. High Commissioner for Refugees, said in an interview from Juba. The fighting, he said, "has totally suffocated our ability to reach a lot of these locations" where people are at risk of starvation.
Experts have held off on making a formal famine declaration — there are specific criteria, including a death rate of 2 out of 10,000 people per day, which must be met before such a declaration can be made — but aid workers caution against waiting for that before taking action.
"The declaration of famine is a technical term. It's a scientific thing that takes time," said Jonathan Veitch, UNICEF's representative in South Sudan. "It will be too late if we wait. We have to all act now." Children are already dying, he said. By the time the United Nations declared a famine in Somalia in 2011, roughly half its 260,000 victims had perished, according to a study commissioned by the U.N. Food and Agriculture Organization.
South Sudan also is facing a deadly cholera epidemic. Transmitted mainly through contaminated food or drinking water, cholera causes severe dehydration and can lead to death in a matter of hours.
"People are living in horrid conditions," said Patrick Robitaille, the field coordinator in Malakal for the aid group Doctors Without Borders, "so disease is spreading very rapidly." A total of 4,765 cholera cases were reported in South Sudan between April and the end of July, 109 of them fatal, according to the doctors group. But the outbreak could have been much more devastating; one of the small victories amid the conflict was an emergency cholera vaccination drive that has kept the disease from ravaging refugee camps.
Nonetheless, efforts to contain the outbreak — and to head off a potential famine — have been hampered by persistent insecurity in the country's northeast, where most of the fighting has occurred. Despite an internationally mediated cease-fire, sporadic clashes between government and rebel troops have continued, and there have been reports of both sides obstructing aid to civilians. This month, six aid workers were targeted in what were apparently ethnically motivated killings.
The fighting began as a power struggle between President Salva Kiir and his former vice president, Riek Machar, but quickly took on an ethnic tinge. Kiir comes from South Sudan's largest ethnic group, the Dinka, while Machar comes from its second-largest group, the Nuer.
More than 500 miles away in the Ethiopian capital of Addis Ababa, peace talks have continued intermittently for months without making much headway. On Aug. 10, negotiators missed a key deadline to form a transitional government.
"Neither of the parties exhibit much urgency around the humanitarian issue," said John Prendergast, a former Clinton administration official with years of human rights activism on Africa issues. He described the hunger crisis in South Sudan as a "ticking time bomb."
If hostilities continue into the dry season, aid workers fear that conditions could deteriorate substantially. As bad as the situation is now, at least there are water and plants on which displaced populations can survive.
In Malakal, which has changed hands six times since the war began and where some of the worst atrocities have been committed, most of the refugees are living day to day.
"I just put one foot in front of the other," said Nyabac, Nyarony's mother, peering out of her tent at the rain slowly filling up the grimy tarpaulin world around her. "What else can I do?"
http://www.washingtonpost.com/world/to-south-sudans-woes-add-famine–50000-kids-at-risk-of-death/2014/08/23/19c21638-2949-11e4-86ca-6f03cbd15c1a_story.html
The Washington Post
25 Aug 2014
pg. A6