1. Where are you from originally? 
I grew up in the small farm town of Edgewood, Iowa.
2. Do you remember when you felt called to mission work?
My parents inspired me at a young age to follow the Golden Rule: help whenever there were neighbors in need. In medical school, I enjoyed volunteering and traveling with the Iowa City Free Clinic and realized my neighbor was anyone in need, so I began volunteering in more and more remote places with greater needs.
3. How did you end up in South Sudan?
While on a medical mission in the rainforest communities of Honduras, I read The End of Poverty by Jeffrey Sachs. Granted, the subsistence of farmers in Honduras was poor by any US standard, they at least had access to land and could feed themselves. I was motivated to explore working in the war-torn areas of Sub-Saharan Africa where literally millions of people were living on less than $1 per day.
By coincidence, I was talking with a friend at a local coffee shop after she returned from teaching in Khartoum, Sudan. She had connections at the medical school there, and within a few months, I was working in refugee camps in Darfur.
The language in the north is Arabic, and even my translator did not speak English well. Luckily, I was befriended by doctors from the Nuba Mountains in more southern parts of Sudan that spoke English and promised to "one day" come and help their people as well.
Another coincidental conversation happened with a friend at my local Methodist Church in Breckenridge, Colorado. I shared stories about working in Haiti, and he said he knew a guy who lived in Denver who had done a water project in the Nuba Mountains. Again, within a few months, I was on a flight to the Nuba Mountains.
4. What are the biggest challenges to carrying out your work?
Just months before my first trip to the Nuba Mountains, a civil war broke out, with a total blockade of humanitarian aid as one of the strategies of genocide of the Nuba people. All supplies have to be smuggled in through South Sudan, which is itself in the middle of a civil war. Until just 2 years ago, there were daily aerial bombardments that drove people from their homes to refugee camps or to the shelter of mountain caves. The roads to the Nuba Mountains are impassible during rainy season, and air transport is very expensive.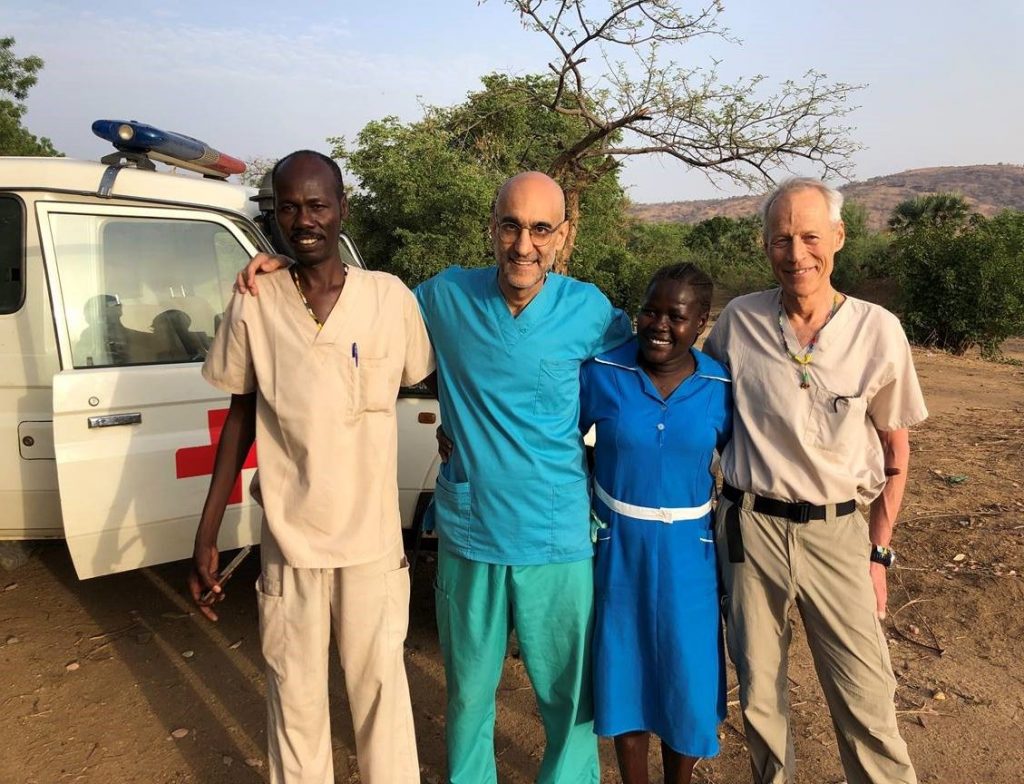 5. Can you describe a happy moment or memory from your volunteer work?
Every day is so rewarding. The people are so appreciative, welcoming, and grateful for the supplies and assistance I provide. Just the presence of a visitor from the outside world gives hope that they have not been forgotten.  Feeding a severely malnourished child, assisting Dr. Tom in surgery, watching children carry safe drinking water from a repaired water pump, and handing lifesaving medicine to clinic volunteers who help their sick and hurting neighbors is the most rewarding feeling in the world.
6. What do you love most about the people of South Sudan?
Though most of my work is technically over the border into Sudan, there is a comradery amongst the African peoples, so that everyone has assisted and encouraged my work in the Nuba Mountains.
7. What is the current urgent need?
The Nuba are now returning to their fields, and most areas are self-sufficient for basic food, but with commerce and humanitarian aid blocked from the north, they have no way to develop their economy to buy medical supplies.
8. How do donations help?
Each day, thousands of people in South Sudan die because they don't have access to basic medical care or medicine. With your help, we can work together to save lives.
When you donate to the Sudan Relief Fund, you're helping me provide medical assistance to the people in South Sudan. Your gift funds the only accessible medical care within miles, and also ensures more consistent delivery of medical aid to the region.
9. What can you share about Dr. Tom and Dr. Ahmed?
They are the most joyful and dedicated humans I've ever met. They are the embodiment of "it's better to give than receive."