Ahmad
Eight Year Old Boy is Cancer Free
Eight year-old Ahmad was of slight build and small for his age. But that's not uncommon for children in this region of Sudan where Ahmad lives. Malnutrition and a lack of clean water affect the early growth of many children in the region. Ahmad wasn't outside playing today because he complained to his mother that the right side of his head was hurting.
He was having these headaches more often. His mother, Saida, determined she would go to the dispensary for medicine. It wasn't like Ahmad to choose rest over playing outside.
That evening she went to the local dispensary and received anti-malarial medications to give Ahmad. Malaria is one of the leading killers among children in Sudan, and many children die before age five from the scourge. Malaria's early onset can cause headaches, and the pharmacist believed this would help.
Only it didn't. Within days, Ahmad's eye began to visibly swell, and terrible pain set in. He couldn't eat or sleep and began vomiting from the pain. Without delay, his mother took him to El-Obeid Hospital in the nearest town.
At El-Obeid, Ahmad received a scan and a doctor gave him different medication for the symptoms. But once again, the efforts produced no improvement.
The swelling and pain only grew worse for young Ahmad. Saida tried to hide her fear that her son would lose his eye. The next morning she awoke to a frightening sight. She could see Ahmad's mysterious swelling was spreading to his neck.
For the first time, Saida worried her child might die from whatever was causing the burgeoning swelling and pain in his body. Trying not to display her panic, she packed him up and took him to Khartoum, the capital city of Sudan, to a state hospital.
But the timing of her trip was tragic. A brutal conflict that would escalate into all-out war was just breaking out in the capital city. Saida was forced to flee Khartoum with her suffering child, and return heartsick to her home town.
Saida felt overwhelmed with despair and helplessness, desperate to find a way she could help her boy. She learned about Mother of Mercy Hospital, a missionary facility in the remote Nuba Mountains. There, a physician known as Dr. Tom, was renowned for saving many lives. He was somewhat of a legend among the locals, and well respected for his commitment to helping the people.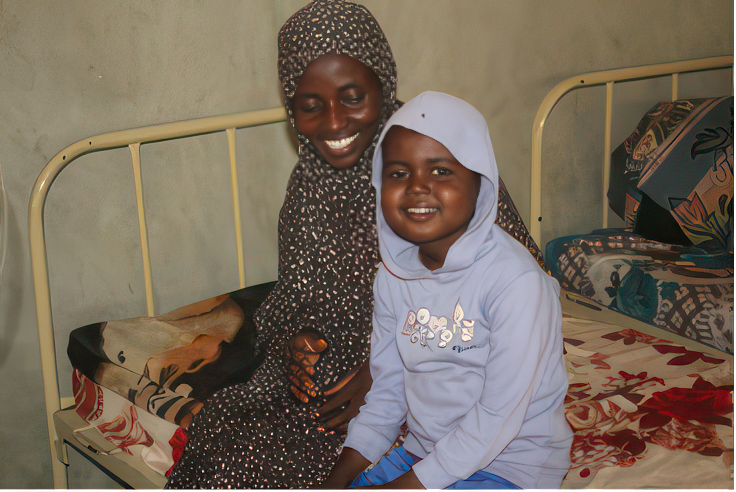 It was a long, rugged distance, but Saida was willing to try anything to relieve her son's suffering. She fought against her sinking fears, wondering if they would get there in time, wondering if this doctor would be able to help her young son.
Mother of Mercy is the only hospital in a 300-mile radius of Gidel – the small area in the Nuba Mountains where the hospital is situated. It is capable of providing high-level emergency surgeries and first-world treatment. It is not unusual at all for patients and loved ones to travel days on foot to reach the facility. It is often their last attempt to find the help they've not received anywhere else.
Ahmad was weak and frail when he arrived, and he was admitted immediately. For fifteen years, Dr. Tom has worked seven days a week, on call 24/7, in wartime and peacetime at Mother of Mercy. In the literal sense, he has seen it all. But even his heart was not immune to aching for this little boy today.
He listened as Ahmad's desperate mother recounted their experience. Dr. Tom immediately ran tests to find the source of the little boy's swelling. The diagnosis was heartbreaking. It was a cancerous tumor that was spreading rapidly.
Without delay, Dr. Tom and his team began administering chemotherapy drugs to the small boy. Then a remarkable thing happened for the first time in Ahmad's exhausting struggle – his body began to respond to the treatment and evidence dramatic improvement.
Within days, the tumor had dissipated, Ahmad's eye opened back up, and his pain was finally gone. The young boy would experience a full recovery and be given a clean bill of health to go home.
Saida was overwhelmed. This time in a joyous way. "I have nothing tangible to give you," she said humbly. "But I pray that you and your staff live a long life and are very blessed!"
She admitted she had expected to lose her boy. "I thank God for Dr. Tom and this hospital who saved the life of my son and the lives of so many others. Without you, we would surely have lost him."
Dr. Tom echoes Saida's sentiments in thanking God. And thanking every individual whose support puts the medicines and surgical instruments in his hand which make it possible to save lives like that of an eight year-old boy.
---
Would you like to pray for us? Sign up for our email prayer group to receive weekly emails sharing important needs to pray for. You'll join a faith community around the globe praying to bring hope and help to suffering people in a forgotten part of the world. Click here to find out more.