Critical Supplies Needed
Help Dr. Tom with Double Donation Match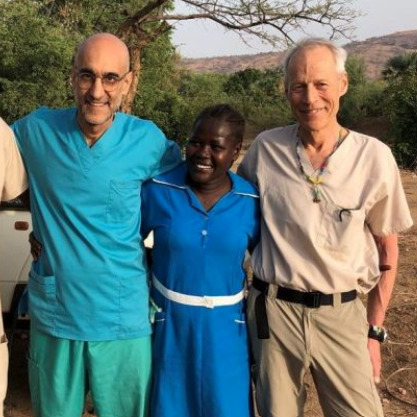 Unshakeable Team – (L to R) Dr. Tom with his wife, Nasima, and longtime friend, Dr PJ
On a recent visit to South Sudan, I had the rare privilege to meet Dr. Tom and witness the renowned work he does at Mother of Mercy Hospital in the Nuba Mountains. It was an experience I will never forget, and far from any typical day in a standard US healthcare system. Here's a glimpse of my day shadowing Dr. Tom Catena.
– Matt Smith, Sudan Relief Fund
It's 6 am, and Dr. Tom rises to serve another day at the missionary hospital he helped establish. He's the only surgeon, and every day hundreds of people depend on him for everything from minor medical issues to life and death emergencies.
Dr. Tom lives in a small hut adjacent to the hospital so he can be on call during the night. Each morning he walks to the small building that serves as a chapel, where he takes mass and prays for strength for the day ahead. Then he begins his rounds.
I see that many people already wait for his help at this early hour. Mother of Mercy Hospital is the only facility of its kind for 300 miles in this remote part of Sudan. It serves an area equal to the country of Austria or the entire state of Georgia – over 1.3 million people.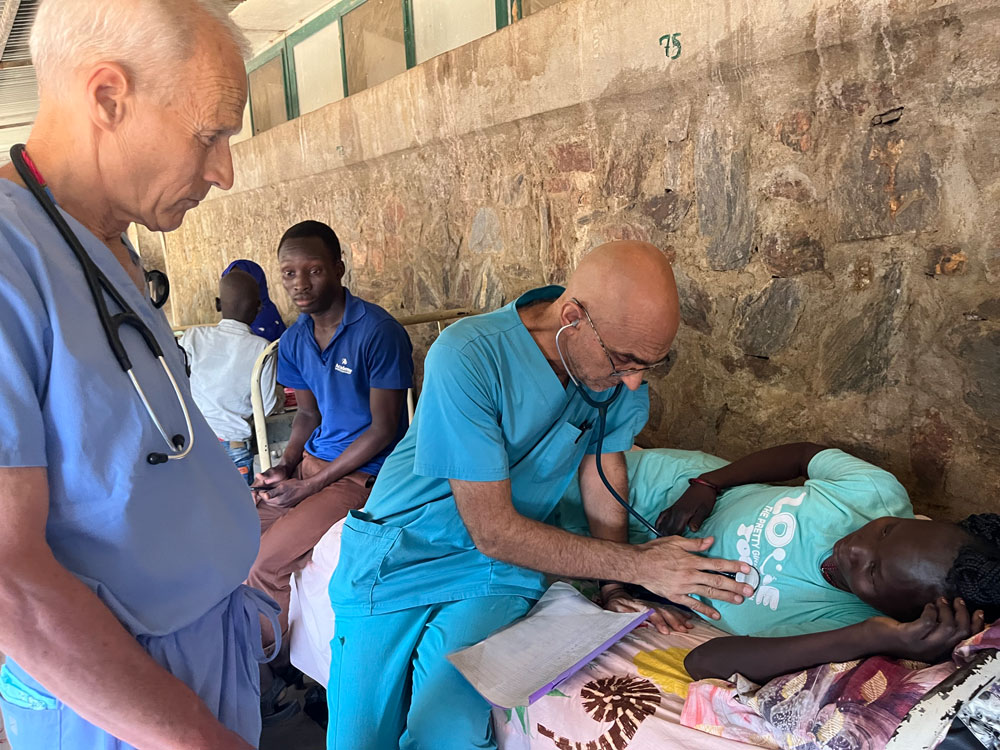 Dr. PJ (L) volunteers every year to work alongside Dr. Tom at the mission hospital in the Nuba Mountains serving 1.5 million people.
Mother of Mercy Hospital Fast Facts
Mother of Mercy is the only hospital for a 300-mile radius in the remote Nuba Mountains
Dr. Tom directs the missionary hospital and is the only residing surgeon
Dr. Tom and his staff see up to 500 patients every day
Each year Dr. Tom performs 2,000 surgeries and the hospital treats 75,000 people
In the fifteen years he's served here night and day, Dr. Tom has seen it all. He's persevered through wartime and peacetime. Endured bombings from a hostile government regime. Jumped into foxholes with patients and staff. Survived times of isolation when no one could get in or out of the region.

Being the only surgeon on staff, Dr. Tom treats everything from appendicitis to cancer, delivers babies, amputates limbs from lepers and landmine victims, rehabilitates malnourished children, removes shrapnel, and all the while remains on call around the clock seven days a week. He's survived regular bouts of malaria, including one that nearly put him in a coma.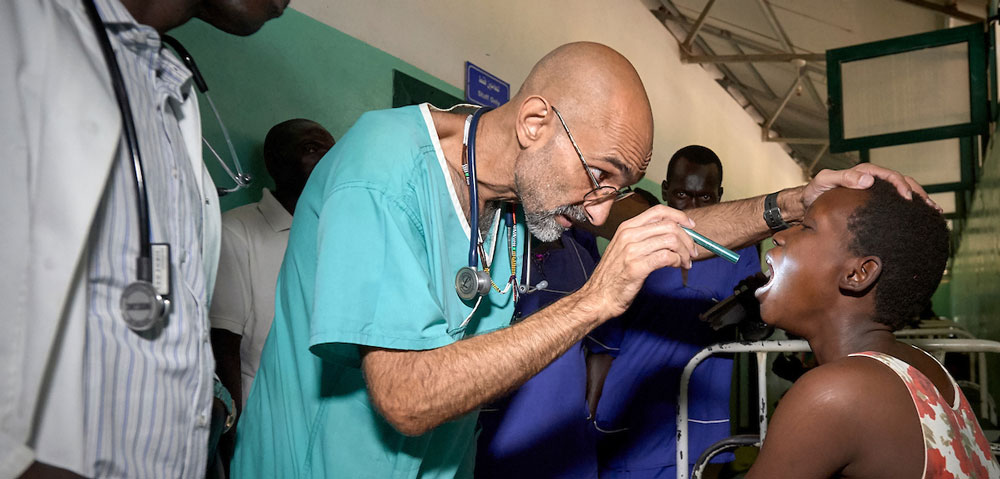 As the only resident surgeon, Dr. Tom will see 500 patients every day, seven days a week, and respond at night to emergencies.
Watching him work, I think how his lifestyle in Nuba is a far cry from the Catholic household in Amsterdam, New York where Dr. Tom grew up. He was an all-star football player, studied engineering in college, and had a lucrative job offer from GE. But he felt he could serve the world better by becoming a doctor in under-resourced areas.

After finishing his internship and residency, Dr. Tom worked in Kenya for seven years, where he learned of the opportunity to serve in the Nuba Mountains. He asked himself, "Where is the greatest need?" From there he was all in. That decision in 2008 set the course of Dr. Tom's life for the next fifteen years.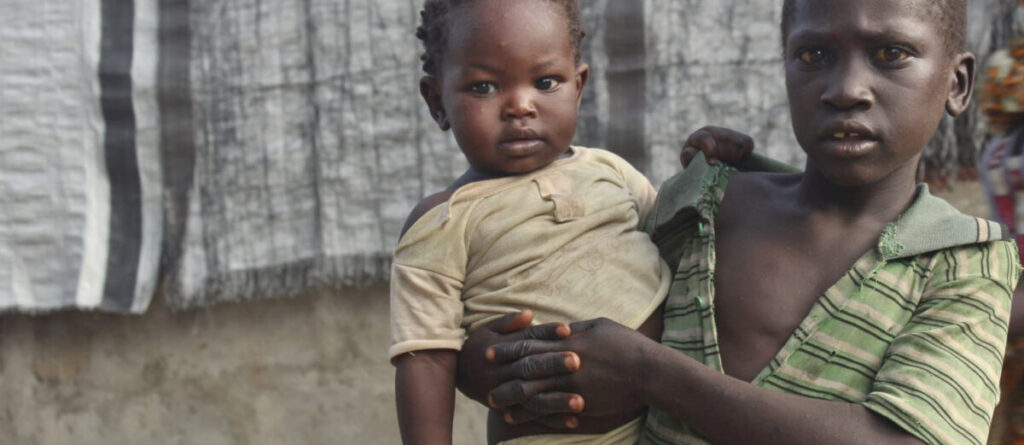 Where to turn? It's not uncommon for children to try to raise siblings on their own after losing parents to violence, disease, or famine.
Today he's confronted with a particularly heartrending patient – an eight year-old boy named Ahmad just arrived. We watch Dr. Tom listen carefully as his frantic mother explains how her little boy suffered headaches and nausea, and his eye began to swell. Despite trips to the local dispensary for medicine, Ahmad grew worse.
His eye became so swollen and painful, he couldn't sleep. His mother, Saida, had taken him to a hospital in El-Obeid where Ahmad received scans and more medicine. Still he showed no improvement.
Then to Saida's dismay, the swelling spread to Ahmad's neck. She rushed him to a hospital in Khartoum, the capital city of Sudan. But fighting in the capital forced Saida to flee with her son back to their home town.
With nowhere else to turn, Saida brought Ahmad all the way to Mother of Mercy Hospital. Ahmad was weak and frail. Dr. Tom immediately ran tests to identify the source of the boy's mysterious swelling. The tests showed he had a cancerous tumor that was spreading rapidly.

Dr. Tom began administering chemotherapy drugs to Ahmad without delay. Then the first encouraging thing happened since Ahmad's struggle began. He responded remarkably well to the medicines. Within days, his tumor dissipated. His swelling disappeared. His eye opened up, and his pain was finally gone. Ahmad would fully recover and go home.
"I was so afraid for my son," Saida said. "I thought I would lose him. I thank God for using Gidel Hospital and Dr. Tom to save the life of my son and many others. I don't have anything tangible to give you, but I pray you have long life and many blessings."
Dr. Tom's work is often overwhelming, the hours grueling, and sometimes the stories don't end as he would like. When he becomes discouraged he reminds himself that, "Something brings you back – a child survives, someone gets well. You say to yourself, 'Keep strong for the next person who might need you.'"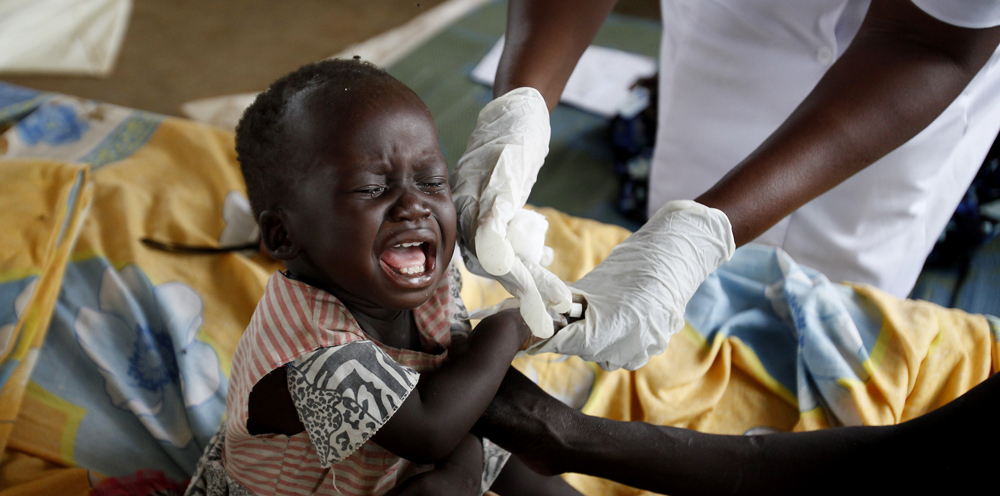 Many children in this region never see their fifth birthday. Dr. Tom and Mother of Mercy Hospital are fighting back.
Help Mother of Mercy Hospital
Despite the difficulty, Dr. Tom is committed for the long run. When war broke out years ago, nearly all humanitarian workers left the region. "I'm a volunteer," Dr. Tom said to the mission board that ordered him to leave. "You can't fire me." So he stayed.
Dr. Perrinjaquet – known as Dr. PJ – a good friend and partner of Sudan Relief Fund, spends weeks every year volunteering alongside Dr. Tom at Mother of Mercy Hospital. He sleeps on a small cot outside Dr. Tom's hut, and works beside his friend and colleague all day. Today I had the opportunity to personally witness this team in motion.

Watching the two of them work together is incredibly inspiring. I could only watch in awe as they diagnosed and treated some of the most challenging cases. They moved throughout the hospital caring for gunshot wounds, amputees, tuberculosis patients, and newborn babies.
The day goes well into the evening before they take a break. Serving in some of the hardest conditions on earth, Dr. PJ asks for nothing other than to help support his friend's vital work.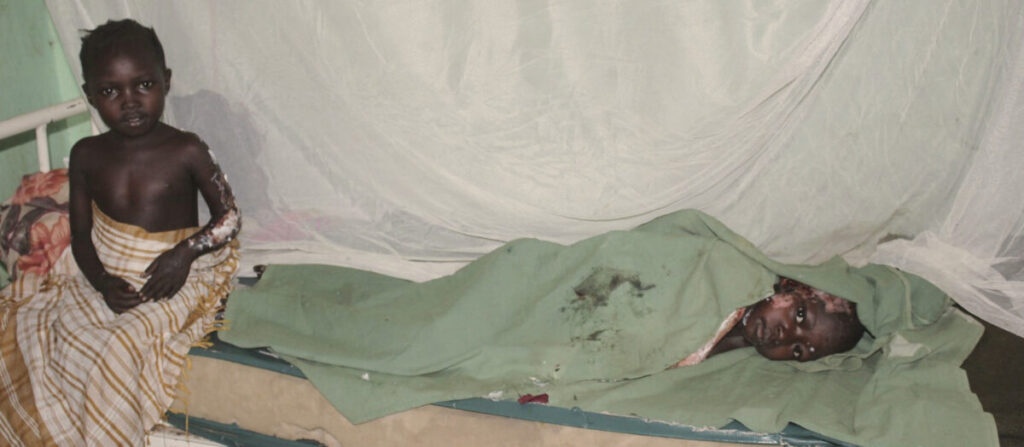 Helping the most vulnerable – two little siblings recover from burn injuries after lifesaving intervention at Mother of Mercy Hospital.
But right now Dr. PJ wants to do more to help his friend and the hospital's lifesaving mission. The war that erupted in Sudan is inching closer to the Nuba Mountains. Hundreds of thousands of civilians have fled to South Sudan and other bordering nations. Like he's done before, Dr. Tom resolutely prepares himself to continue helping the suffering if the war reaches them.
More than ever, it is a critical time for the hospital to be fully stocked with medicine, operating supplies, and equipment to handle the increase in patients that will inevitably come.
No one knows better than Dr. Tom and Dr. PJ how vital it is for the hospital to be fully supplied, to withstand the influx of more patients and imminent war. That's why Dr. PJ has stepped forward to offer a matching grant to raise funds for Dr. Tom and Mother of Mercy Hospital at this crucial time.

From now through November 30th, every gift donated will be matched dollar for dollar to provide resources for the hospital.
This means any amount you give will provide twice the medicine and twice the supplies for Dr. Tom and his team to keep saving lives in the days ahead.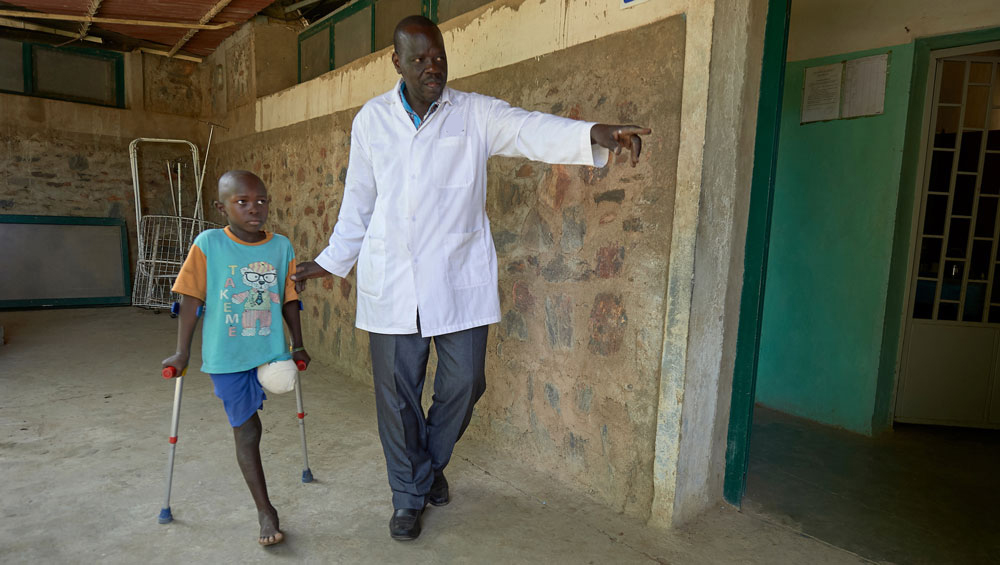 Young victim of war – the heartbreaking use of landmines claims lives and injures many in Nuba. Without the hospital's proximity, victims would not survive their extensive injuries.
Will you please join Dr. PJ to make sure Dr. Tom and Mother of Mercy Hospital have the supplies they need at this critical time?
Dr. Tom's faith helps him remain strong in the face of challenges like these. "If I didn't see it as a calling," he said, "I don't think I could continue. This is too hard. I can't imagine doing it without my faith."
Remember any amount you share will go twice as far until November 30th, thanks to Dr. PJ's generous matching pledge.
A new war is spreading. Please help Dr. Tom have what he needs to be ready.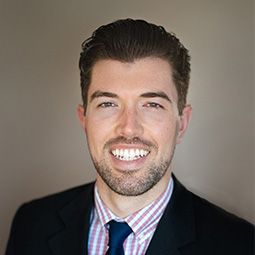 Sincerely,
Matt Smith
Vice President, Strategic Partnerships and Development
PS – It's imperative that Mother of Mercy Hospital is stocked with critical supplies before the full force of the war reaches the Nuba Mountains. Dr. Tom won't let his patients down no matter what comes. Please help us stand by him. Any gift you give today will have twice the impact.