The Fight for Girls' Education
"They made me do so many chores so I wouldn't have time to go to school"
While this sounds unimaginable to most of us, it's a recent testimonial from a young woman named Ageer. She's not alone. It's the story of countless girls in a country where girls' education is still considered unimportant or not even allowed.
GIRLS' EDUCATION FACTS
Only 27% of students enrolled in school are girls
Only 8% of women can read – possibly the worst literacy rate in the world
A girl is more likely to die in childbirth than to finish primary school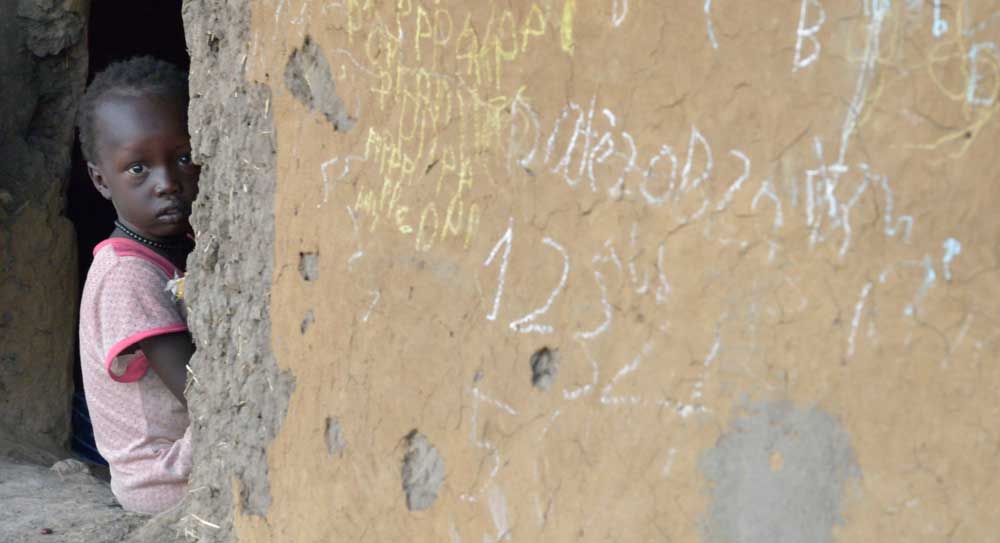 Denied education, she stays trapped in ignorance and poverty.

DIRE STATISTICS FOR GIRLS
Only 27% of students enrolled in school in South Sudan are girls. It's estimated only 8% of women can read, which is possibly the worst female literacy rate in the world.
Childhood and forced marriage is still a deeply entrenched barrier to education for girls in South Sudan. Women are more likely to die in childbirth than to complete their primary education.
Girls are often viewed as collateral assets in South Sudan. For example, a family can receive a dowry paid in cattle for their exchange. This fuels a family's motivation to arrange a marriage as soon as possible, and weakens a girl's chance to finish school.
ONE GIRL'S PERSONAL STRUGGLE
Ageer's household was a typical environment with stern traditional beliefs and practices toward girls – with the exception of her father, a school teacher who alone supported his daughter's education. He took her to school and paid her fees, but was frequently away. The rest of the extended family continually undermined Ageer's efforts toward education.
In third grade, Ageer's mother began intentionally overworking her so it was impossible to go to school until late in the day. Ageer missed all the morning lessons.
When Ageer started sixth grade, her uncle and brothers forcibly left her at a cattle camp – a place where girls face harsh servitude and live in primitive conditions. They warned her not to try to escape. But three months later Ageer did escape. She found her way back home, hoping to return to school.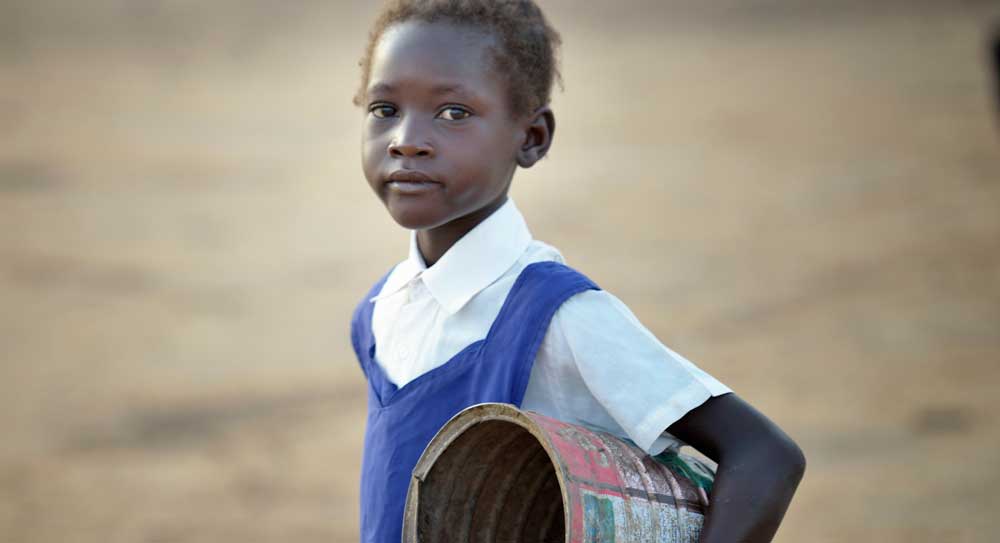 No time for school. Girls' chores can take long hours every day.

OVERCOMING THE ODDS
Ageer's father returned and demanded she be permitted to attend school. So her family reluctantly obeyed. To dissuade her, they simply gave Ageer no time to study, in hopes she would fail. It took Ageer hours each day to perform the many chores she was given.
Ageer's mother remained unrelenting in her quest to change her daughter's attitude about school. At one point, Ageer's mother threw water all over her schoolbooks to ruin them and prevent Ageer from studying. So Ageer secretly borrowed books from school friends to read. Somehow she always remained one of the top five students in her primary school and graduated as the top female in her class.
In 2013, Ageer was thrilled to be accepted to high school at Loreto School for Girls – a school supported by Sudan Relief Fund that turns out students with some of the highest test scores nationwide. It's run by Sudan Relief Fund partner, Sister Orla Treacy, a Loreto Nun from Ireland, who is the principal. After all the odds against her, in 2017 Ageer realized her goal of completing high school.
ESCAPING FORCED MARRIAGE
Then news arrived that Ageer must submit to an arranged marriage. Ageer met the man dutifully but declined his proposal. She began an internship at Loreto Schools teaching primary school and doing computer training. Her relatives pledged to move ahead with the marriage anyway. They planned to take Ageer away when she came home during the holiday.
"My uncles refused to give up, because forced marriages are very common in my community," Ageer explained.
Ageer's father once more stepped in to help, as did Sister Orla. He asked if Ageer could stay at the Loreto School compound, since he was often away. Sister Orla agreed, and Ageer remained safely locked within the campus gates during the holiday.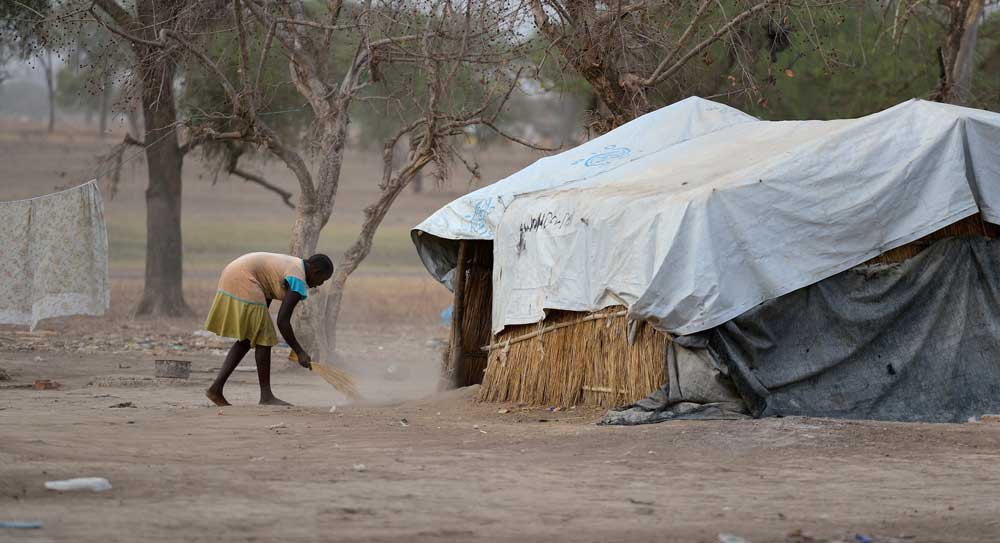 Girls are traded for cattle in forced marriages before completing school.
ACHIEVING A DREAM
It was there Ageer met Father John Skinnader, a Spiritan missionary priest also from Ireland, who has been a missionary in South Sudan for over a decade. "He asked me why I didn't go to college. He took compassion on me," Ageer said.
Father John made an arrangement with her family to provide them food, since they would lose the dowry of cows for Ageer's marriage. He promised to find her a scholarship if they would let her attend college – something her father could not afford. Ageer's relatives agreed.

In 2018 Ageer received the promised scholarship to a university in Nairobi. With determination and compassionate help, she finally achieved what had seemed an impossible dream: she would receive a college education.
Ageer is now a college graduate and recently earned her Bachelor's Degree in Information and Technology. Currently she assists missionary nurse Noeleen Loughran while looking for work in her career field.
"Finally, I have some peace of mind. I will always be grateful for the opportunity to have been in school. I would like to give special thanks to Father John and all those who supported me."
Success Story. Despite great hardships, Ageer earned a college degree.

GIVE GIRLS THE GIFT OF EDUCATION
Ageer's story has a happy ending. But many girls' stories do not. No girl should struggle for the chance to go to school. Please help today in the fight for girls' education in South Sudan. Your support of our school programs makes these lifechanging stories a reality. Please help us create more happy endings like Ageer's.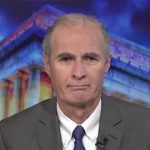 Sincerely,

Neil A. Corkery
President
PS – Did you know educated mothers help stop the cycle of poverty? A mother's education level is the highest determining factor whether her children will become healthy, educated adults. Helping a girl today will set in motion positive change for generations. Please support the fight for girls' education with your compassionate gift.
PSS – You may be able to make your gift go twice as far without giving a dollar more. Thousands of companies participate in Corporate Match programs. This means they match the amount you give to charitable organizations, which doubles your impact! Click here to see if your employer participates in the program.