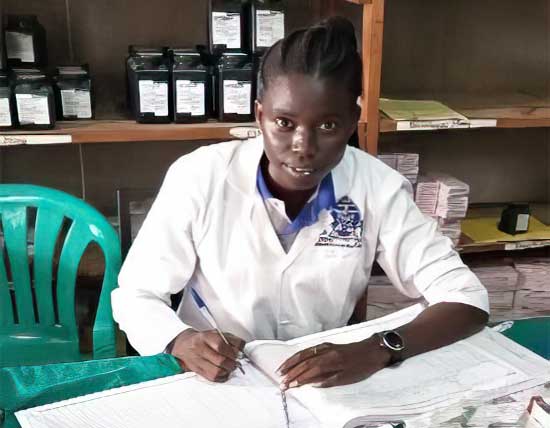 Female Graduate Returns from Medical Training to Serve at Clinic
Racheal Piath is blazing trails for girls in South Sudan as one of the first female graduates to return with a degree in the medical sector.
Racheal just completed her higher education to earn a Diploma in Clinical Medicine, and has come back to her alma mater to serve at the Mary Ward Primary Healthcare Center, located on the campus of the Loreto Rumbek School for Girls.
Racheal is an example of an initiative directed by Sister Orla Treacy, Principal of Loreto School for Girls, whose motto is, "In the future, women will do great things." The school is a catalyst for girls' education in a country that has traditionally denied females the opportunity for higher education, or nearly any schooling at all.
Typically only 30% of students enrolled in school are girls. Of that group, a scant 2-3% go on to secondary school. It is estimated only 8% of women in South Sudan can read – one of the lowest literacy rates in the world. Tragically, a girl has historically been more likely to die in childbirth here than to finish primary school.
But all that is changing with the pioneering work of Loreto School for Girls. The school recently boasted their first female alumni who became a lawyer, and each year more girls are going on to seek higher education after graduation. The benefits of Sister Orla's work come full circle when these young ladies return to serve in their home areas, where their skills are greatly needed.
The school's health clinic is a light to the community, and its services were integral during COVID when the government asked the clinic to remain open, as shutdowns affected nearly all other healthcare services in the area. Initially the clinic saw 1,500 patients a day, but eventually expanded to more than triple their capacity, administering medicine to 5,000 patients daily at the height of the pandemic.
The clinic also sponsors nutritional and wellness programs for new mothers, and outreach programs in the community. Racheal will work at Mary Ward as a Clinical Officer, sharing her skills, and offering inspiration to other girls of what can be achieved with their potential.