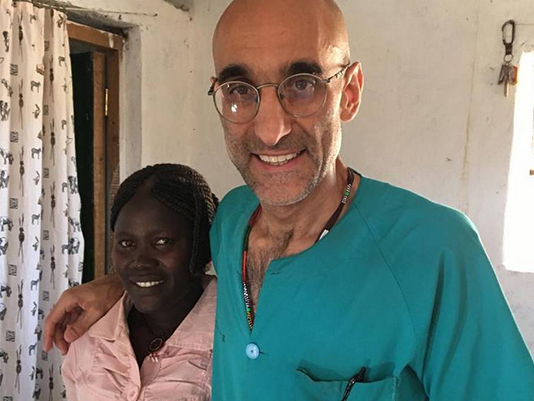 In Sudan, health care is a political act for hero doctors
It took Ahmed Zacharia, the only native-born doctor of the four who serve 1.5 million people in the Nuba Mountains, a full 11 years to complete his six years of medical study. Too little time in the library wasn't the problem, but too much time in jail, where he was tortured for opposing the Islamist government.
He and his American colleague, Tom Catena, the only trained American surgeon in the Nuba Mountains, provide so much more than medical care in a place where women still often die during childbirth and children of dehydration from untreated diarrhea. Their decision to stay on and work in hospitals that have repeatedly been bombed by government forces inspires the kind of gratitude that you can really only call love.
But recently, both of their personal lives have taken turns that gave the Nuba people a reason to celebrate: Zacharia, who is 40, married not long ago, and in the ultimate expression of hope in an uncertain future, he and his wife are expecting their first child.
Catena is also a newlywed whose wife, Nasima Mohammed Bashir, is a Nuba born nurse. Dr. Tom is Nubian now!'' a local friend says. Nasima's own marriage, of course, is not at all typical: "I'm the first person to marry a white man,'' she says, which people being people, "some criticize and some appreciate."
In a world of shifting alliances, Zacharia loves that medicine is so morally unambiguous: "Even those injured on the front lines" while fighting against his people "come to us, and there are medical laws and you treat them; it's straightforward."
Catena says he is motivated by his Catholic faith and seems to have settled in the area. He says the only one way he'd leave this life is if things got so much better that his patients there didn't need him anymore. That will not be happening any time soon.
http://www.kansascity.com/opinion/opn-columns-blogs/melinda-henneberger/article137317423.html