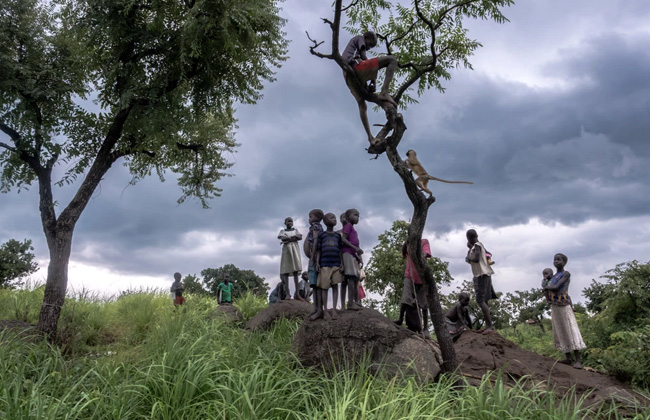 In Uganda's Refugee Camps, South Sudanese Children Seek the Families They've Lost
On a pale dirt road in the Palorinya refugee camp in northern Uganda, Raida Ijo clung to her 16-year-old son, Charles Abu. They sobbed quietly into each other's shoulder. They had been separated for 19 months, since the day that fighting broke out between rebels and government troops in their village in South Sudan.
Charles was halfway through a math class in their village, Andasire, in South Sudan's Central Equatoria state, when the shooting started. He ran for the bush, and after a sleepless night in hiding, set off for the Ugandan border with his younger brother, Seme, 14.
Their mother, Mrs. Ijo, feeling unwell, had checked herself into a hospital that morning. The boys knew that to try to find her would be too dangerous.
The two brothers are among 17,600 minors who have crossed the border into Uganda without their parents since the outbreak of South Sudan's civil war in 2013, according to the United Nations refugee agency. Over the last year, the pace of the conflict and the flow of refugees have slowed, but aid workers say it will take years to reunite splintered families.
"When it's already tough just to survive, and you don't even know if your loved ones are alive, that adds a lot to the burden," said Joane Holliger, a delegate of the International Committee of the Red Cross to a program in Uganda, Restoring Family Links. "There are a lot of protection concerns for unaccompanied children — child labor, teenage pregnancy, prostitution, child-headed families — so the quicker we can trace their parents, the better."
Over the last two years, 433 unaccompanied minors have been reunited with their parents in Uganda. Worldwide, the International Committee of the Red Cross has opened 99,342 cases as it tries to reunite families.