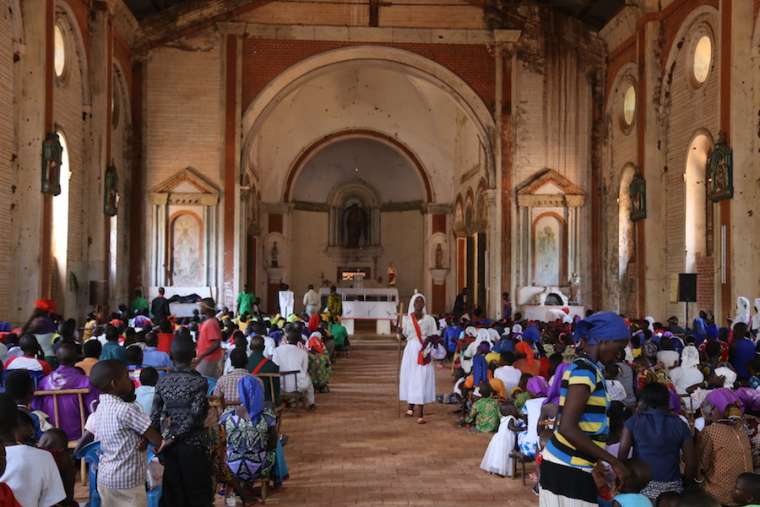 In war-torn South Sudan, priests build a shrine to Our Lady of the Rosary
Ave Maria, the parish church outside Mupoi, South Sudan, was abandoned at the beginning of Sudan's civil war and then ransacked. Now, two strong-willed Spanish missionaries are working to rebuild it, and hope to turn in a continental Marian Shrine of Our Lady of the Rosary.
Combonian missionaries built the massive church almost a century ago, and soon became the leading evangelizing force of Sudan. But their churches, rectories, and missions were either abandoned or transferred to young native clergy after Sudan's first prime minister, Ismail al-Azhari, expelled all Catholic missionaries from the country.
Most of the regions Catholic population fled, and the Ava Maria church was left to crumble.
"Now that people have returned to this area, our goal is to rebuild physically, but most importantly, spiritually, with a comprehensive vision" says Fr. Avelino Bassols, pastor of the mission parish.
Bassols and his vicar, Fr. Albert Salvans, belong to the Missionary Community of St. Paul de the Apostle (MCSPA). While the priests work in the slow rebuilding of the shrine, a building for a secondary school has been started with financial help from the Sudan Relief Fund. The Catholic school will cater to all the students from the nearby towns.
"We need schools, drinking water, a healthcare facility, issues we are addressing with the help of the Sudan Relief Fund. But what we have in abundance here is a deep faith. Our people have survived persecutions, the expulsion of the missionaries, many decades without priests, but their deep faith remains," Fr. Bassols said.
Fr. Bassols and Fr. Salvans are hopeful that the shrine of Our Lady of the Rosary will be completely restored by 2023 and will attract Catholics from all over the world.