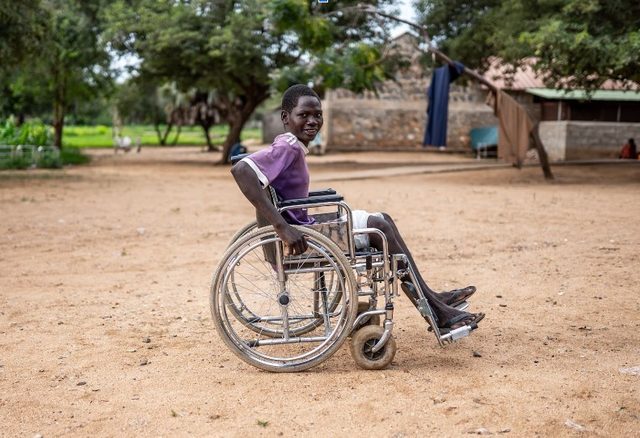 Khalis
Dr. Tom Helps Young Boy Walk Again
Every day, Dr. Tom Catena works around the clock to save lives at Mother of Mercy Hospital – a facility supported by Sudan Relief Fund that offers hope to more than 100,000 patients each year who would otherwise go without needed medical treatment.
They come for many miles, traversing hours of difficult terrain to reach this remote destination in the Nuba Mountains. As Founder and Medical Director of the hospital, and its only surgeon for many years, Dr. Tom has seen it all.
Some patients particularly touch this veteran surgeon's heart. Recently he shared the story of a boy named Khalis.
Khalis was a strong and healthy teenager. One day he was dismayed to discover that his leg began to swell. Not only was this concerning, it also brought debilitating pain.
He searched for answers at his local clinic, but none of the treatments helped. In a very short time, he went from a robust teenager to being unable to walk without assistance.
For an entire year, Khalis simply endured the pain and made do with one functional leg. However, soon his good leg also began to swell. This devastating discovery led him to make the long trek to the Mother of Mercy hospital to seek help.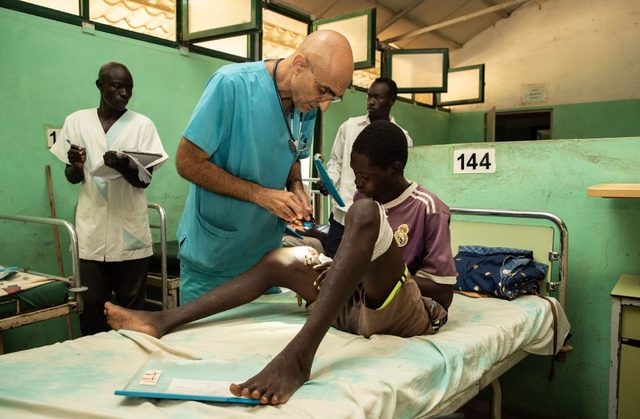 "He came to us in rough shape," said Dr. Tom. When Khalis arrived, he was diagnosed with osteomyelitis, a severe bacterial bone infection that had set in. He needed a blood transfusion, and he required surgery on both legs to get rid of the infection and all affected bone tissue.
Thanks to Dr. Tom's skillful expertise, the surgeries were successful. Soon Khalis will leave his wheelchair behind and graduate to crutches. "While his path to healing is long, it brings me joy to share that a full recovery is on the horizon," Dr. Tom reported.
Khalis continues to improve and inspires the staff daily with his resilience. "Witnessing Khalis's progress is remarkable," Dr. Tom continued. "His spirit of joy is infectious, and happiness radiates from his smile. He's made a profound impact on my entire team.
"I wish you could witness the impact you're making on people living in the Nuba Mountains in person," Dr. Tom expressed. "Because of your generosity, patients like Khalis are receiving the treatment they need to feel whole again."
Stories like this are possible because of your support to the Mother of Mercy Hospital through the Sudan Relief Fund. Your gifts are changing lives and bringing hope every day to patients like Khalis and many others. Thank you for partnering with us to save lives.
---
Would you like to pray for us? Sign up for our email prayer group to receive weekly emails sharing important needs to pray for. You'll join a faith community around the globe praying to bring hope and help to suffering people in this forgotten part of the world. Click here to find out more.