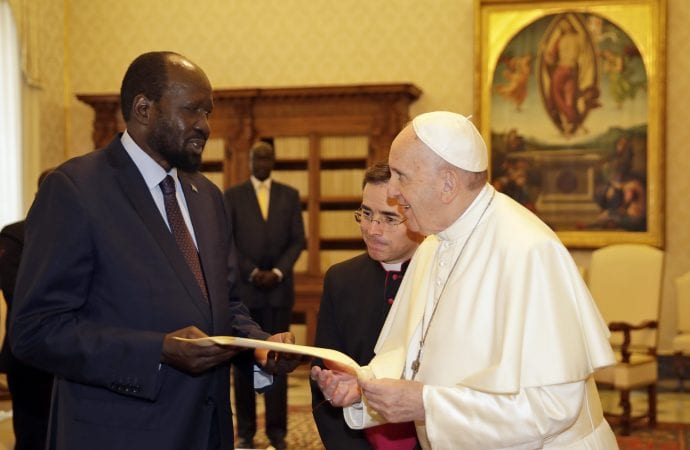 Pope, Archbishop of Canterbury to Host Retreat for South Sudan's Leaders
South Sudan President Salva Kiir and opposition leader Riek Machar will be guests of the head of the Catholic Church and the Anglican Communion in the Vatican, where they'll take part in an ecumenical retreat on April 10-11 in an effort to help implement the country's peace deal.
For the 400,000 people who've died in the conflict, their handshake will come too late. But for Pope Francis and Archbishop Justin Welby of Canterbury, those deaths justify deploying all political and religious credibility to make this peace agreement stick, unlike more than one dozen previous agreements
Francis and Welby have been planning an ecumenical trip to South Sudan for years, but the conflict so far has prevented it.
Cardinal Pietro Parolin, the Vatican's Secretary of State, recently told journalists that there's "cautious optimism" about the pontiff visiting in the near future.
"It will be a moment of spirituality and, above all, it will help make them aware of the responsibility that politicians and authorities have," Parolin said.
A statement released by the Vatican defines the retreat as an event "both ecumenical and diplomatic." The goal, it said, is to offer "a propitious occasion for reflection and prayer, as well as an occasion for encounter and reconciliation, in a spirit of respect and trust, to those who in this moment have the mission and the responsibility to work for a future of peace and prosperity for the South Sudanese people."
Though neither Francis nor Welby will deliver meditations, both are expected to be on hand, and the pontiff will close the retreat with a speech in the afternoon.