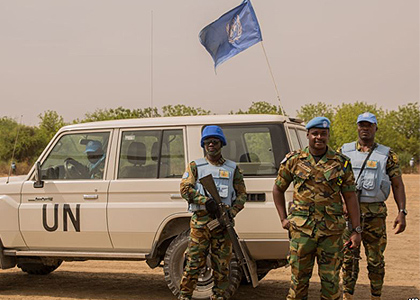 UN threatens to consider arms embargo in South Sudan
The U.N. Security Council demanded an immediate end to fighting in South Sudan and threatened to consider an arms embargo and sanctions to prevent warring parties from violating a December cease-fire agreement.
A U.S.-drafted resolution, adopted unanimously, also expresses the council's intention to consider sanctions "against those who take actions that undermine the peace, stability, and security of South Sudan."
 The resolution extends the mandate of the U.N. peacekeeping force in South Sudan until March 15, 2019 and maintains the 17,000 troop ceiling, including a regional protection force of up to 4,000 troops and 2,101 international police personnel.
There were high hopes that South Sudan would have peace and stability after its independence from neighboring Sudan in 2011. But the country plunged into ethnic violence in December 2013. A peace deal signed in August 2015 didn't stop the fighting — and a cessation of hostilities agreement this past Dec. 24 was broken within hours.
The conflict has killed tens of thousands of people and forced over 4 million to flee their homes, more than 1.8 million of them leaving the country in what has become the world's fastest growing refugee crisis.
https://www.washingtonpost.com/world/africa/un-threatens-to-consider-arms-embargo-in-south-sudan/2018/03/15/415bbba0-2863-11e8-a227-fd2b009466bc_story.html?utm_term=.40bd0b85378f