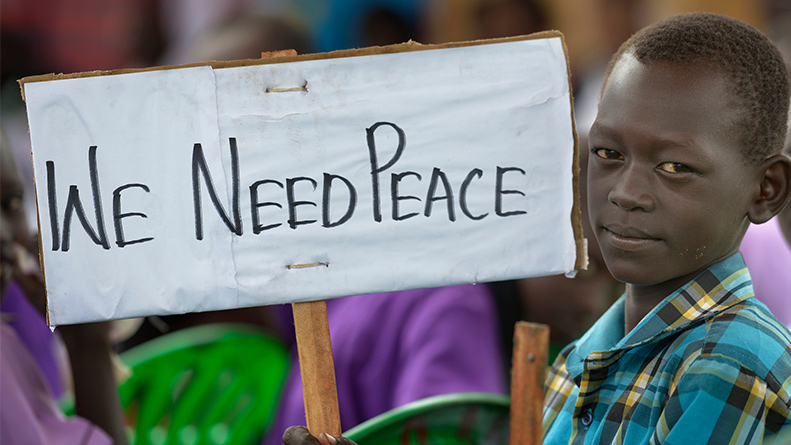 A Nation Divided
Officials Fear Escalating Violence Will Hinder Humanitarian Aid Efforts
In a nation marked by more conflict than peace in its brief history, solutions to quelling the violence in war weary South Sudan remain elusive.
Marauding militias and armed communal youth groups growing in numbers threaten to soon outgun the nation's own defense forces, jeopardizing the work of humanitarian groups throughout the region. This instability prevents crucial aid deliveries – food relief and medicines greatly needed by much of the population.
Yakani said the violence is "undermining the genuine implementation" of the 2018 peace agreement, which was meant to bring stability between the opposing forces backing President, Salva Kiir versus Vice President, Riek Machar.
"The country is breaking into pieces…"
While the two reigning politicians are said to work in relative peace in the capitol, some portions of the country have erupted in violent outbreaks. 2022 has already been a deadly year for the nation, with over 200 people killed in the month of June alone.
Some analysts say the violence escalated after the cancellation of Pope Francis' planned visit to South Sudan, which was hoped would "encourage faith in a country damaged by years of war."
The trip was canceled due to the Pope's ongoing knee problem, and the Vatican's Secretary of State, second-ranking Cardinal Pietro Parolin, was sent in his place.
Other conflicts result from cattle raids or deeply entrenched tribal hatred. Nicholas Haysom, UN representative to South Sudan, told the Security Council last month more than 80% of civilian casualties this year are "attributed to intercommunal violence and community-based militias." He noted the scale the conflict has reached is "alarming."
James Akot, a political science scholar in Juba, agrees. "The country is breaking into community defense forces that can actually overpower our army soon."
https://abcnews.go.com/International/wireStory/explosion-violence-south-sudan-threatens-peace-pact-86997353