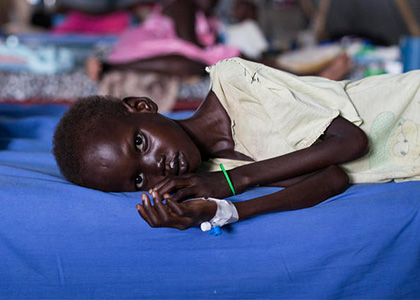 Hunger Woes Escalate in War-Torn South Sudan
At least two-thirds of the residents of oil-rich South Sudan are at risk of extreme hunger as the country tries to contain a devastating four-year conflict.
Some 5.3 million people, almost half of the population, struggled to find enough food in January, as aid agencies brace to help a record number of people in need this year, a report released by the United Nations and South Sudanese government said.
"The situation is extremely fragile, and we are close to seeing another famine," said Serge Tissot, representative for the U.N.'s food and agricultural agency in South Sudan. "The projections are stark. If we ignore them, we'll be faced with a growing tragedy."
The prospect of famine comes after a dry season in which South Sudan in early 2017 declared famine in two counties with a total of some 100,000 residents. Weeks of robust aid deliveries helped avert the crisis, prompting aid agencies to lift the famine declaration in June.
The hunger is one aspect of a humanitarian emergency that has uprooted nearly five million people since the conflict began, creating the region's worst refugee crisis since the 1994 genocide in Rwanda, aid officials said.