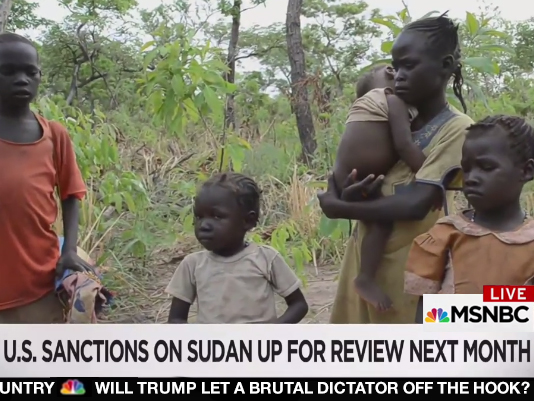 Will Trump Let a Brutal Dictator Off the Hook?
In a recent MSNBC interview, journalist Greta van Susteren spoke with Former Rep. Frank Wolf and humanitarian activist Ryan Boyette to discuss the crisis in Sudan and the possibility of U.S. sanctions being lifted.
"I beg the administration, in the interest of speaking out for human rights and religious freedom, you cannot lift the sanctions on Sudan," said Former Congressman Frank Wolf.
By July 12, 2017, the secretary of state is to provide a report to President Donald Trump that will provide the basis for reviewing the sanctions on Sudan. He will have the option of re-enacting sanctions, issuing another temporary reprieve, or permanently removing the sanctions.
"Sudanese President Omar al-Bashir has killed more people than ISIS and Al-Qaida combined. Don't forget he's the one who invited Osama Bin Laden to come and live in Sudan. To lift sanctions on a man like that is incredible," added Former Congressman Frank Wolf.
According to a filing with the Justice Department, the government of Bashir, which is listed by the U.S. as a state sponsor of terrorism, has hired Washington law firm Squire Patton Boggs LLP at a cost of $40,000 a month to lobby on its behalf as part of its accelerating campaign to ensure that President Donald Trump permanently lifts sanctions against the country ahead of a deadline next month.