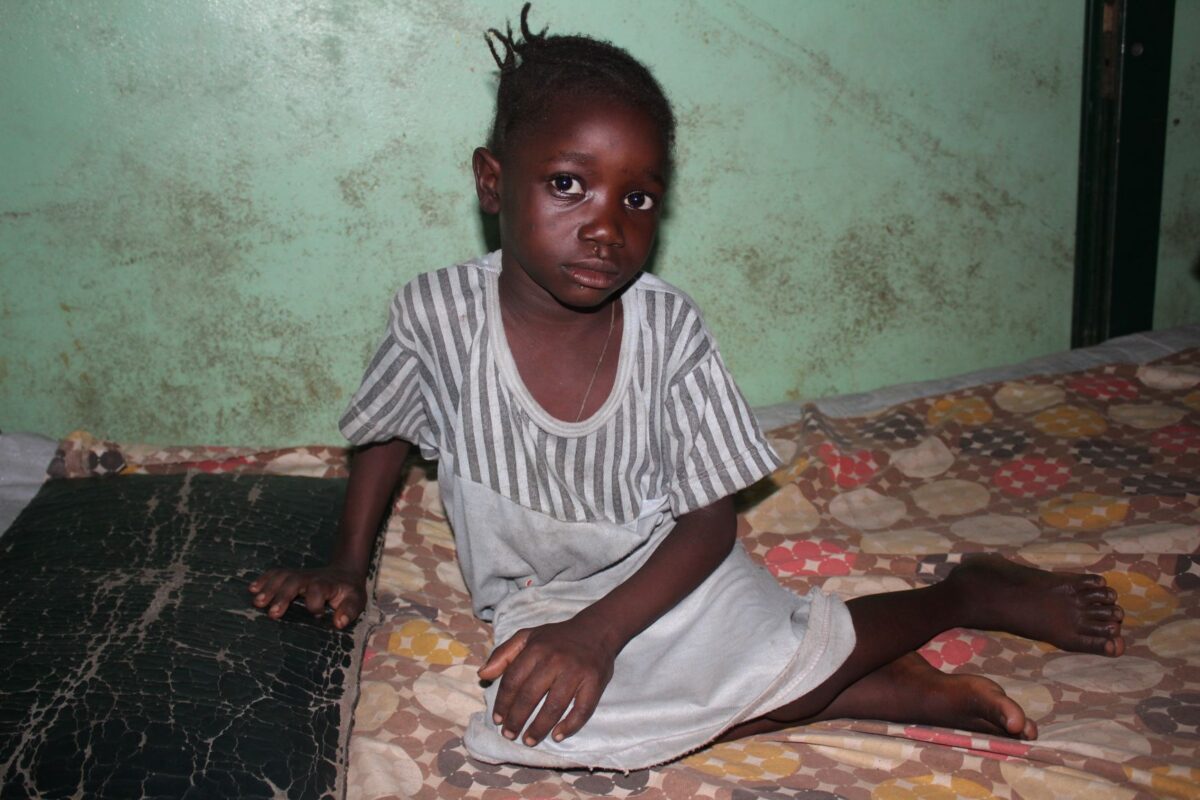 Salfa
A Little Girl is Saved From the Grip of Deadly Disease
Salfa was a six year-old girl who had just started going to school. Even though she was a bit shy, Salfa was excited about attending and she enjoyed her classes.
But one day when she was at school, something wasn't right. Without warning, Salfa suddenly fell to the ground. Her knee took a significant brunt of the fall, and soon began to swell. It didn't take long before her knee became excessively painful.
The swelling and pain in her knee seemed disproportionate for Salfa's injury, but grew so severe that she was taken to the nearby clinic in Dabi. There, Salfa was given medicine, but it did nothing to alleviate the swelling or excruciating pain.
Salfa began to cry all the time, and the swollen, painful knee left her unable to walk. After enduring this condition for a few weeks with no sign of improvement, Salfa's grandmother took her to the nearest hospital. She spent a day at the facility, but the staff ultimately advised her grandmother to take Salfa to Mother of Mercy Hospital.
It was a lengthy journey, but Mother of Mercy Hospital was renowned for helping patients who didn't find a cure anywhere else. Mother of Mercy is a mission hospital supported by Sudan Relief Fund, the only facility of its kind for hundreds of miles in the Nuba Mountains. Dr. Tom Catena, a local hero and the hospital's director, serves diligently as the only on-staff surgeon.
After conducting a series of tests, Dr. Tom revealed that Salfa was suffering from tuberculosis, which had progressed to the point that the little girl was extremely weak. The TB had infected Salfa's knee and was the reason she could no longer walk.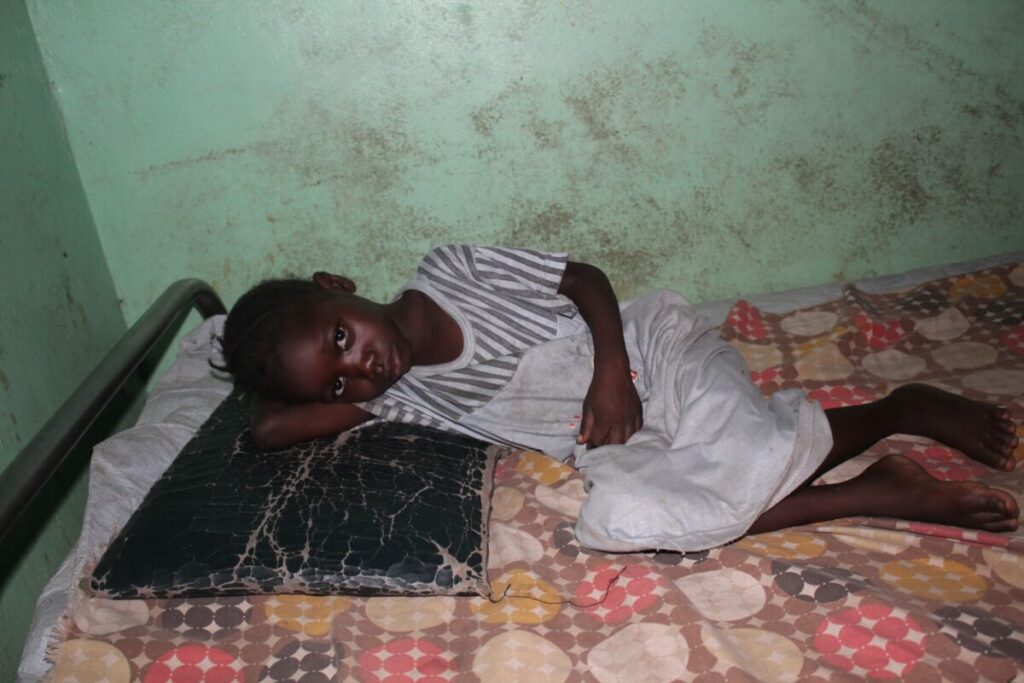 Dr. Tom immediately began giving Salfa medicine to treat the tuberculosis. Day after day, the little girl lay in her hospital bed, as her grandmother waited by her side and prayed to see any sign that her granddaughter might be turning a corner.
One morning, Salfa was able to sit up. By Day 20, the young girl could stand up and walk very slowly. After a month of treatment, she had progressed so much that she was nearly her normal self again. Salfa was on course to achieve a full recovery.
Salfa's grandmother was exhausted and relieved, but energized at the joy of seeing her granddaughter's healing. She overflowed with expressions of gratitude to Dr. Tom and the hospital staff.
"Thank you to Dr. Tom and those who work with him," she said. "And also a big thank you to those who help this hospital." Soon six year-old Salfa would be able to return home with her grandmother. Only this time she would walk on her own.
These stories of Lives Saved are possible because of your support to Dr. Tom and his team at Mother of Mercy Hospital. Thank you for helping to save children like Salfa from the deadly but curable sickness of tuberculosis.
---
Would you like to pray for us? Sign up for our email prayer group to receive weekly emails sharing important needs to pray for. You'll join a faith community around the globe praying to bring hope and help to suffering people in a forgotten part of the world. Click here to find out more.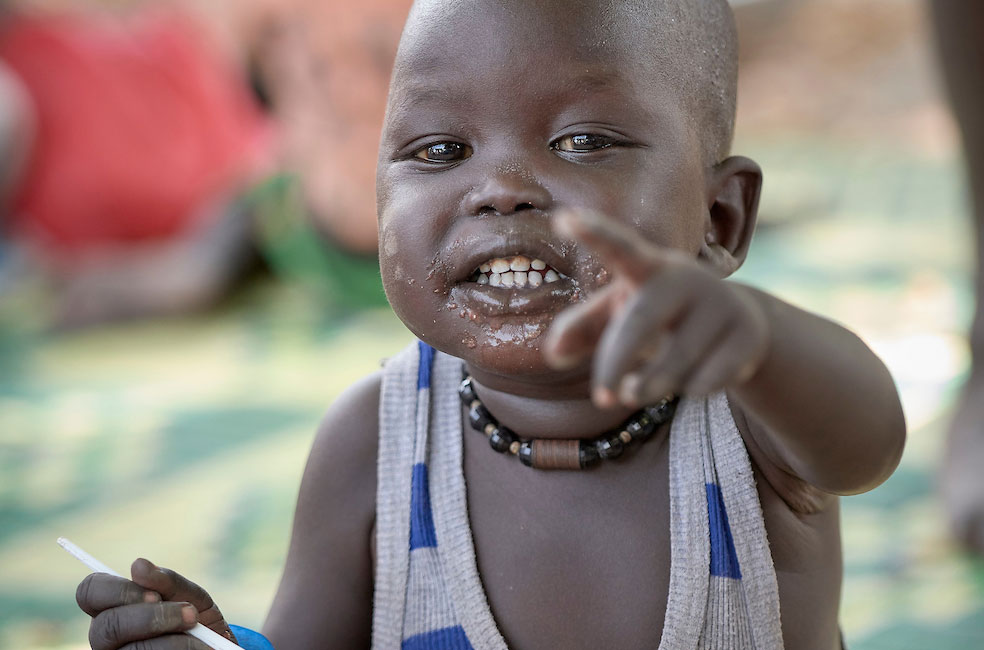 Giving Thanks for You
This Thanksgiving, Sudan Relief Fund is especially grateful for you. Every gift you share throughout the year that provides medicine for sick people, shelter for an orphan, food to starving families, and clean water to those drinking mud, makes a lifechanging difference and an impact in our world. The recipients of your gifts are grateful, too. As one mother expressed whose child was saved by a hospital you support, "I have nothing tangible to give you. But I pray you have long life and are very blessed!"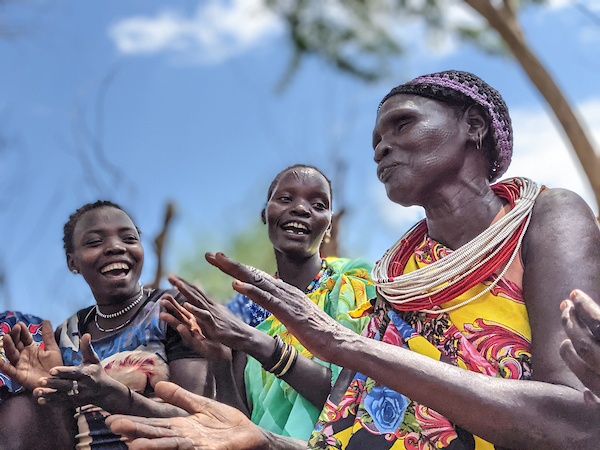 Perhaps those intangible gifts are the most meaningful of all. We at Sudan Relief Fund wish you the fullness of joy in the company of people you love. And we thank you for remembering others as you faithfully share your blessings all year. Miles away across continents and in a very different setting, someone is lifting up a prayer of thanks for you.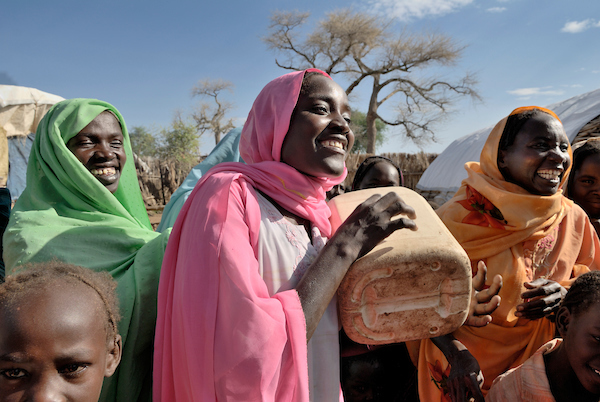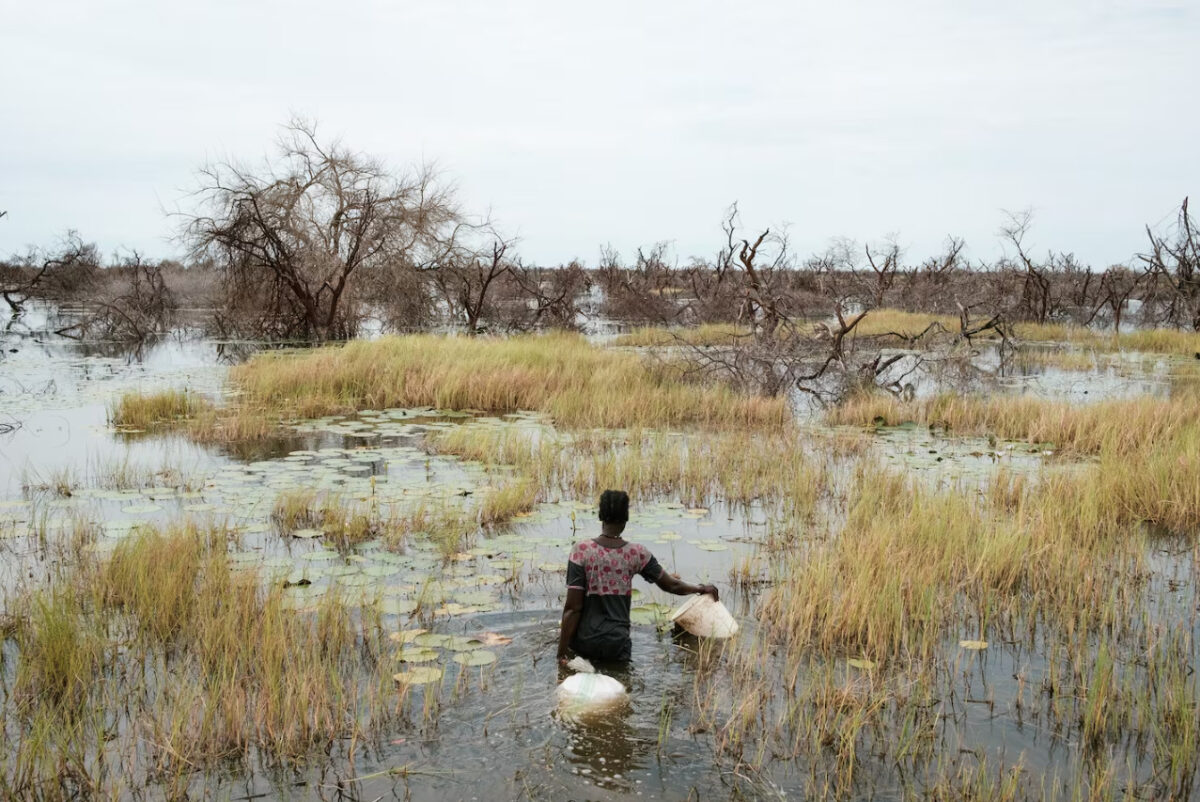 Eating Water Lilies to Keep from Starving
Chronic Flooding Intensifies One of World's Worst Food Crises
"I am just so, so tired," says Nyaguey, a 43 year-old mother. Before the land in South Sudan became flooded, she was a corn farmer with a small but livable income. She could buy sugar, coffee, and shoes for her children.
Now her home is submerged and her village is one of the last remnants of land protruding above the water. Her entire days are consumed with slogging through floodwaters for miles, searching endlessly for underwater stalks of the water lily plant that has become her family's only food source.
Since the waters consumed cropland and reduced livestock to dry bones, desperate residents are eating whatever they can find.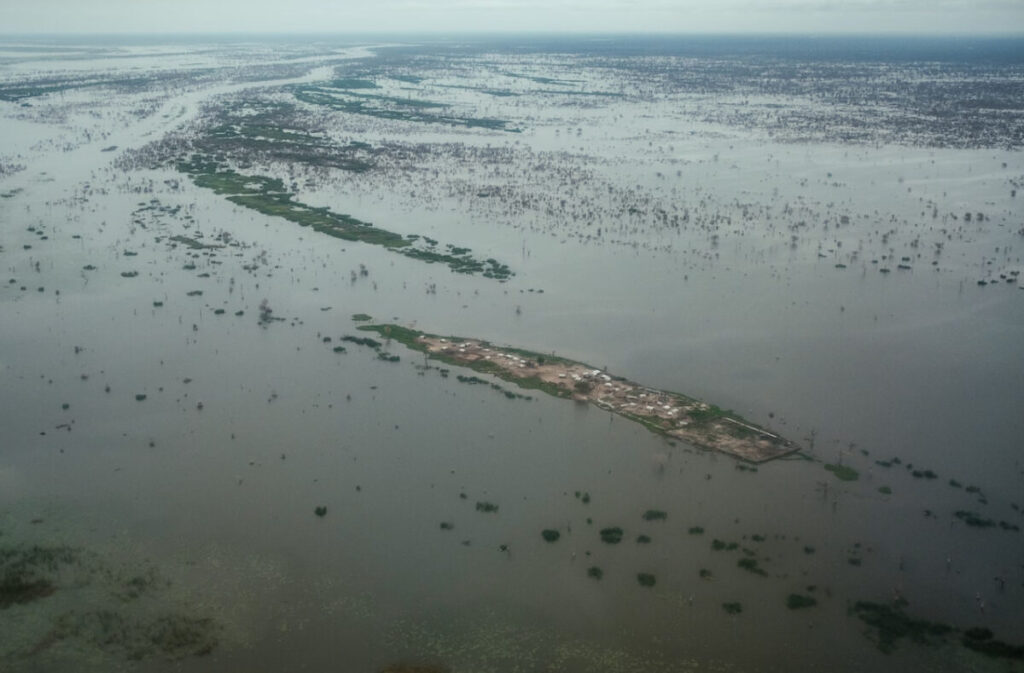 Donate now
Many who venture into the swampy shoals die from poisonous snakes that lurk in the murky water. Others suffer chronic diarrheal illnesses. All have become undernourished and vastly more susceptible to disease.
Once their bags are filled with stalks, the work is not over. Water lilies are bitter, hard for the body to digest, have little nutrition and require hours of manual labor to cut, pound, dry, and sift in order to make the plant barely edible.
Despite the risks and grueling work, Nyaguey returns each day to repeat the rigorous process. What other choice is there, she asks? "As long as my children are alive," she says, "I'll keep going."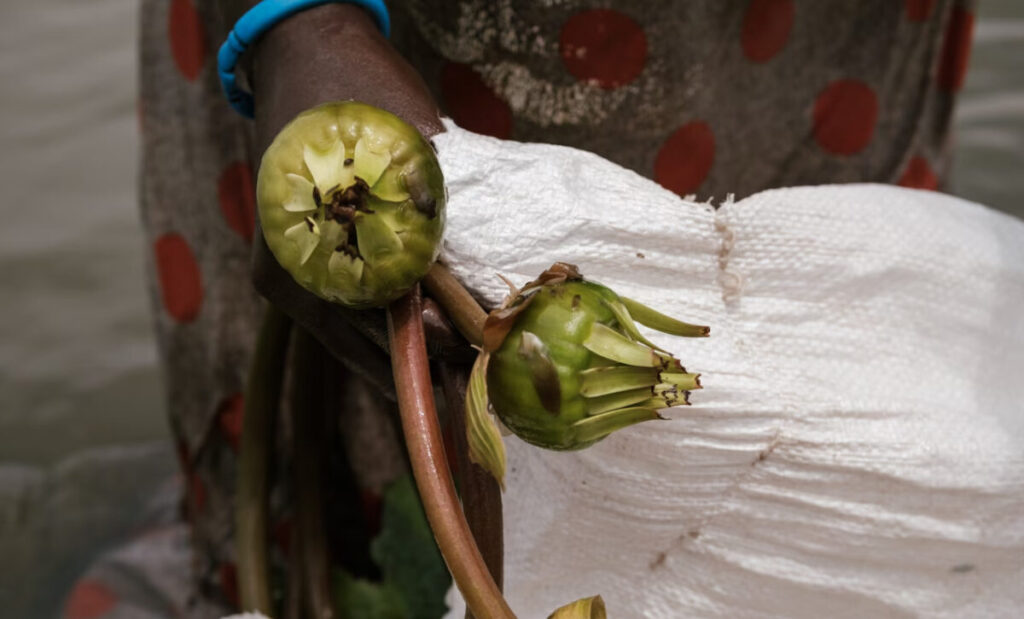 Donate now
"We are very, very vulnerable," said Reik Chatiem, a deputy administrator in the same county.
Parts of South Sudan have been covered by standing floodwaters for years. In a primarily agrarian nation, over one million displaced people fear their livelihood has been swallowed up by an expanse of water the size of Lake Michigan.
So for now, people like Nyaguey will get up and wade through the floodwaters in search of their last food source, and try to survive another day.
Ahmad
Eight Year Old Boy is Cancer Free
Eight year-old Ahmad was of slight build and small for his age. But that's not uncommon for children in this region of Sudan where Ahmad lives. Malnutrition and a lack of clean water affect the early growth of many children in the region. Ahmad wasn't outside playing today because he complained to his mother that the right side of his head was hurting.
He was having these headaches more often. His mother, Saida, determined she would go to the dispensary for medicine. It wasn't like Ahmad to choose rest over playing outside.
That evening she went to the local dispensary and received anti-malarial medications to give Ahmad. Malaria is one of the leading killers among children in Sudan, and many children die before age five from the scourge. Malaria's early onset can cause headaches, and the pharmacist believed this would help.
Only it didn't. Within days, Ahmad's eye began to visibly swell, and terrible pain set in. He couldn't eat or sleep and began vomiting from the pain. Without delay, his mother took him to El-Obeid Hospital in the nearest town.
At El-Obeid, Ahmad received a scan and a doctor gave him different medication for the symptoms. But once again, the efforts produced no improvement.
The swelling and pain only grew worse for young Ahmad. Saida tried to hide her fear that her son would lose his eye. The next morning she awoke to a frightening sight. She could see Ahmad's mysterious swelling was spreading to his neck.
For the first time, Saida worried her child might die from whatever was causing the burgeoning swelling and pain in his body. Trying not to display her panic, she packed him up and took him to Khartoum, the capital city of Sudan, to a state hospital.
But the timing of her trip was tragic. A brutal conflict that would escalate into all-out war was just breaking out in the capital city. Saida was forced to flee Khartoum with her suffering child, and return heartsick to her home town.
Saida felt overwhelmed with despair and helplessness, desperate to find a way she could help her boy. She learned about Mother of Mercy Hospital, a missionary facility in the remote Nuba Mountains. There, a physician known as Dr. Tom, was renowned for saving many lives. He was somewhat of a legend among the locals, and well respected for his commitment to helping the people.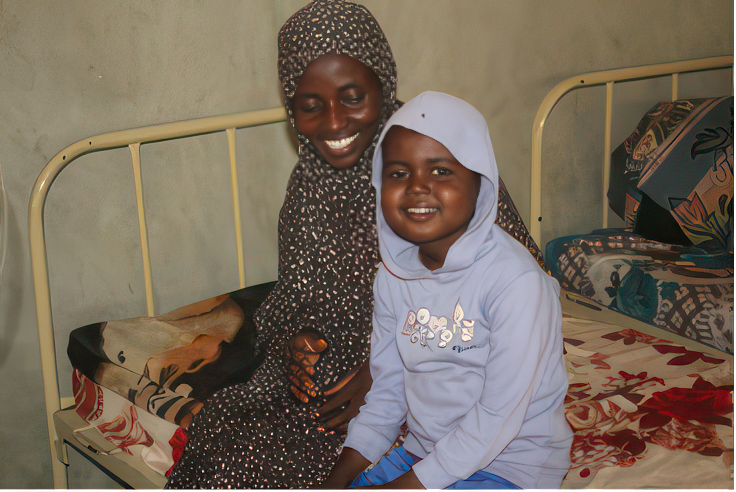 It was a long, rugged distance, but Saida was willing to try anything to relieve her son's suffering. She fought against her sinking fears, wondering if they would get there in time, wondering if this doctor would be able to help her young son.
Mother of Mercy is the only hospital in a 300-mile radius of Gidel – the small area in the Nuba Mountains where the hospital is situated. It is capable of providing high-level emergency surgeries and first-world treatment. It is not unusual at all for patients and loved ones to travel days on foot to reach the facility. It is often their last attempt to find the help they've not received anywhere else.
Ahmad was weak and frail when he arrived, and he was admitted immediately. For fifteen years, Dr. Tom has worked seven days a week, on call 24/7, in wartime and peacetime at Mother of Mercy. In the literal sense, he has seen it all. But even his heart was not immune to aching for this little boy today.
He listened as Ahmad's desperate mother recounted their experience. Dr. Tom immediately ran tests to find the source of the little boy's swelling. The diagnosis was heartbreaking. It was a cancerous tumor that was spreading rapidly.
Without delay, Dr. Tom and his team began administering chemotherapy drugs to the small boy. Then a remarkable thing happened for the first time in Ahmad's exhausting struggle – his body began to respond to the treatment and evidence dramatic improvement.
Within days, the tumor had dissipated, Ahmad's eye opened back up, and his pain was finally gone. The young boy would experience a full recovery and be given a clean bill of health to go home.
Saida was overwhelmed. This time in a joyous way. "I have nothing tangible to give you," she said humbly. "But I pray that you and your staff live a long life and are very blessed!"
She admitted she had expected to lose her boy. "I thank God for Dr. Tom and this hospital who saved the life of my son and the lives of so many others. Without you, we would surely have lost him."
Dr. Tom echoes Saida's sentiments in thanking God. And thanking every individual whose support puts the medicines and surgical instruments in his hand which make it possible to save lives like that of an eight year-old boy.
---
Would you like to pray for us? Sign up for our email prayer group to receive weekly emails sharing important needs to pray for. You'll join a faith community around the globe praying to bring hope and help to suffering people in a forgotten part of the world. Click here to find out more.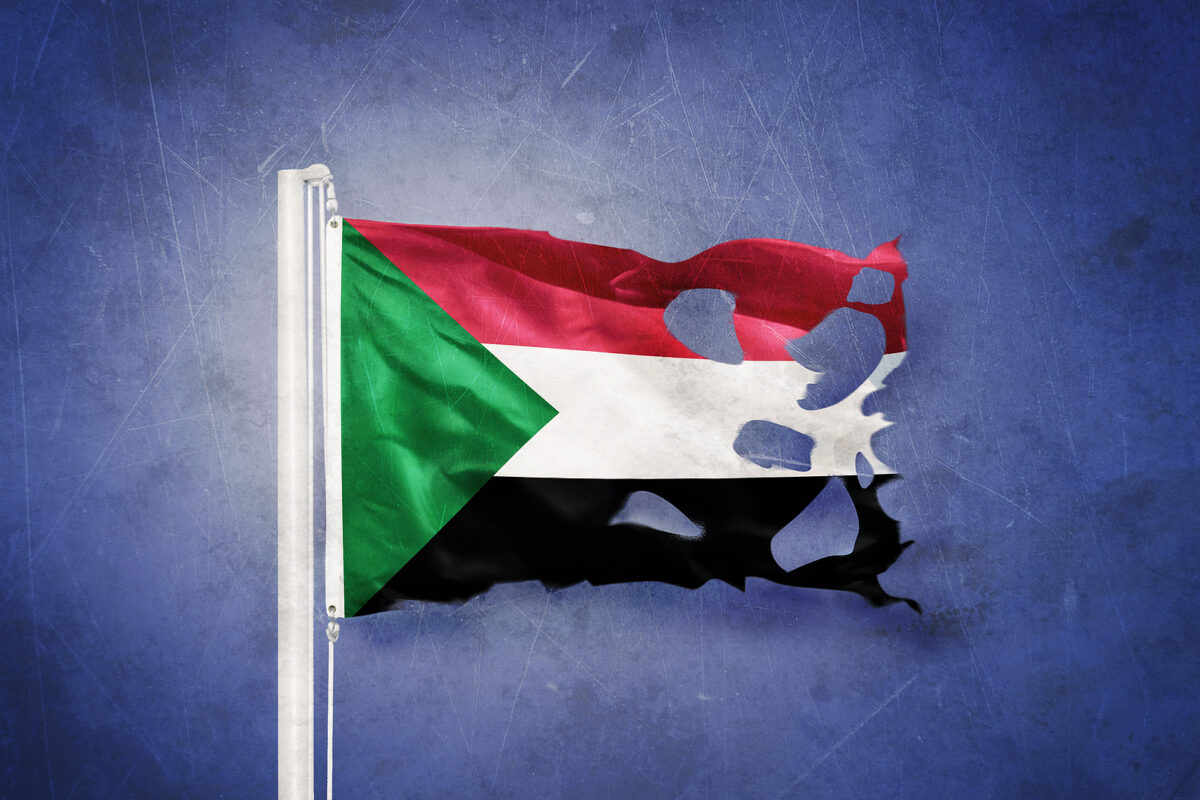 UN Calls Sudan Crisis 'Worst Humanitarian Nightmare in Recent History'
After six months of intense fighting, the UN says the war in Sudan has now reached "the worst case scenario" and become "one of the worst humanitarian nightmares in recent history."
More than 5.6 million have been displaced inside and outside the country of Sudan, since fighting broke out in April between the Sudanese Armed Forces (SAS) and the Rapid Support Forces (RSF) paramilitary group.
"For six months, civilians – particularly in Khartoum, Darfur, and Kordofan – have known no respite from bloodshed and terror," said the UN's Humanitarian and Emergency Relief Chief, Martin Griffiths.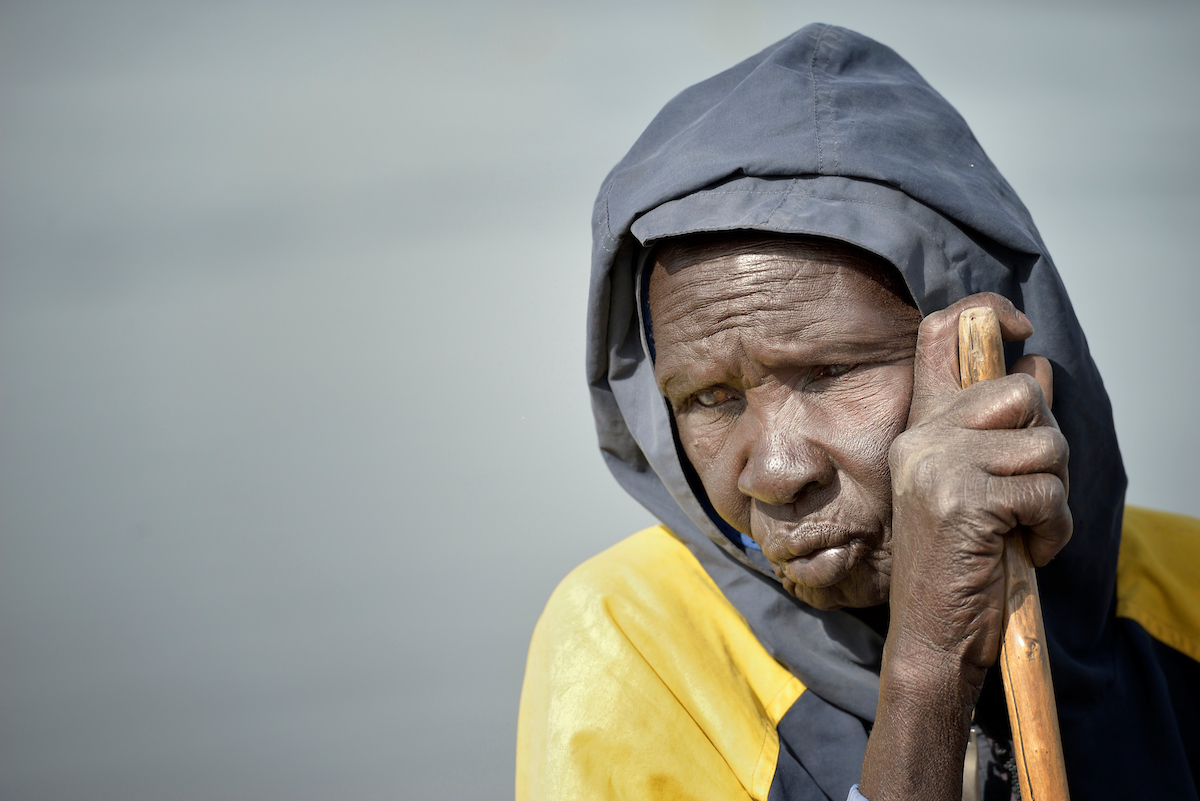 Faces of War – Since fighting broke out in April, over 5 million Sudanese have been forced out of their homes to bordering nations and refugee camps.
The fighting that began in Sudan's capital city of Khartoum April 15th erupted in response to mounting tensions over a planned transition to civilian rule that was to take place. Instead, two generals who formerly joined forces to organize a 2021 military coup are now embattled in a bitter power struggle for control of the country, with no anticipated negotiation in sight.
Thousands of citizens from Europe and other nations have been flown out of Sudan, but many Americans are expressing frustration over lack of help from the US government, as much of the world continues to ignore the escalating crisis.
Meanwhile millions of civilians are caught in the crossfire in what the UN says is now "the largest internal displacement crisis in the world."
In May, Sudan Relief Fund supporters helped provide a rescue boat to transport trapped refugees to safety. The boat carries 800 passengers at a time over a two-day journey from Renk, a town on the border of South Sudan, to Malakal. When displaced families arrive, our teams are on the ground providing emergency supplies to those arriving to the Malakal refugee camp.
Behind Walls of Terror – For 6 months civilians have had "no respite from bloodshed and terror" in what the UN calls "one of the worst humanitarian nightmares in recent history."
Approximately 70 percent of the hospitals located in war zones across the country are no longer functioning, as Sudan's emergency medical facilities are being pushed to the breaking point.
The World Health Organization reports 58 verified attacks on healthcare facilities, in addition to 31 deaths and 38 injuries to healthcare workers or patients. In some locations, surgeries have been suspended completely because of military activity preventing supplies from being successfully delivered to hospitals and humanitarian facilities.
"Emergency rooms are congested and many hospitals have closed completely," says a representative from Médecins Sans Frontières, also known as Doctors Without Borders. "In the capital, Khartoum, MSF medical teams are witnessing one of the most intense urban conflicts currently taking place worldwide."
"Critical supplies remain blocked and stocks in the hospital are now depleted," said MSF's Operations Coordinator for Sudan, Michiel Hofman.
In the meantime, Sudan Relief Fund sponsored Mother of Mercy Hospital located in the Nuba Mountains of Sudan, continues to extend a call for donations to rush supplies to the facility, in preparation for the spreading of warfare. The hospital has already seen a 50 percent increase in incoming patients.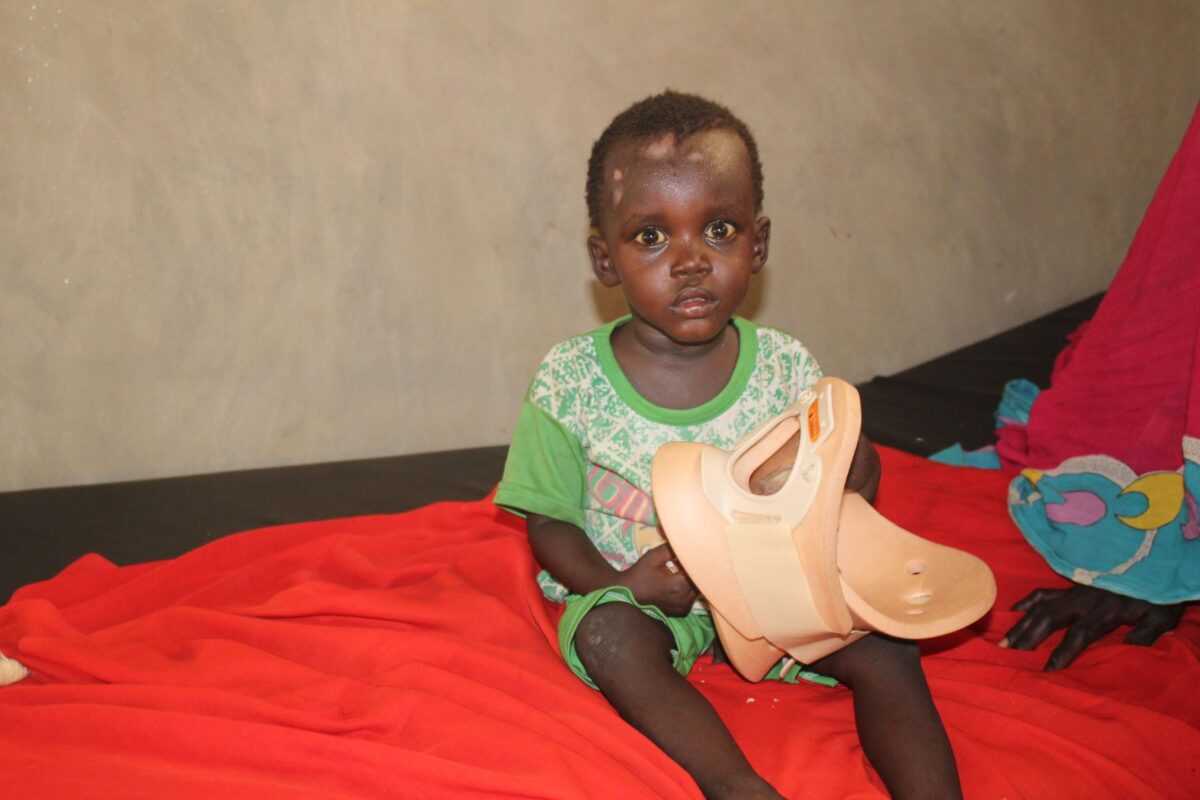 Alamin
Toddler in Hit and Run Accident Finds Help at Mother of Mercy
Two year-old Alamin was playing with his older brother by the quiet roadside in his village that morning.
Neither of them expected the motorbike that suddenly came hurtling down the road at breakneck speed. Alamin's older brother rushed to grab his younger sibling to pull him to safety. At the very moment he reached Alamin, the motorbike collided into both of them at full speed, knocking them to the ground.
The motorbike and its rider never wavered, vanishing into the distance.
Amazingly, Alamin's older brother wasn't seriously injured. But the same could not be said for the toddler. The impact struck his head and neck. He was immediately knocked unconscious.
Alamin's little body became alarmingly stiff like a board during the hours-long trip to Mother of Mercy Hospital, where his mother desperately hoped he could be helped. All except for Alamin's neck, which to her horror became like rubber.
Alamin was still unconscious when he reached the remote hospital supported by Sudan Relief Fund – the only one of its kind for hundreds of miles in the Nuba Mountains. The little boy couldn't eat or drink for days, and was sustained through an NG tube and with IV fluids.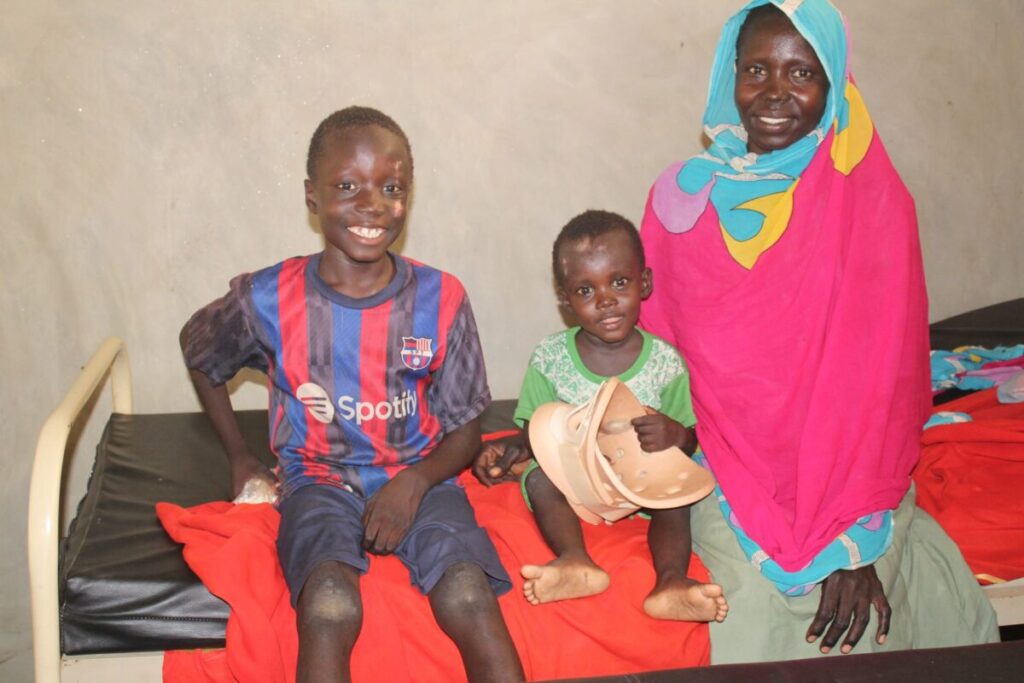 Small Survivor – Two year-old Alamin made a dramatic turnaround at Mother of Mercy Hospital after a near death hit-and-run accident. Pictured here with his mother and brother after making a recovery at the hospital.
Dr. Tom Catena – longtime missionary doctor and hospital director – put a neck brace on Alamin and treated the toddler to stabilize the nerve damage done by the impact of the accident.
After a grueling nine days awaiting an outcome, Alamin turned a corner. He began to show signs of improvement. After twelve days of treatment, the little boy had tugged off his neck brace all on his own. By the time he was released, he could talk and walk normally and was given a clean bill of health.
Alamin's mother, Khaita, was astonished at her toddler's recovery. After the severity of his injuries, she feared he would die. She was amazed that she was looking at her healthy little boy once again. Khaita was overwhelmed with joy at his turnaround.
Khaita was so grateful to the doctors and nurses who treated her young son. This joyful mother shared her message to all who support the hospital, "Thank you for helping Mother of Mercy to treat people like us. Without it, children like my Alamin would easily have died."
These stories are made possible by your support of Mother of Mercy Hospital and other humanitarian programs sponsored by Sudan Relief Fund. Thank you for helping us save lives.
---
Would you like to pray for us? Sign up for our email prayer group to receive weekly emails sharing important needs to pray for. You'll join a faith community around the globe praying to bring hope and help to suffering people in a forgotten part of the world. Click here to find out more.
Loreto Schools Fight Malaria, Expand Student Opportunities
Loreto Schools remains a driving force in girls' education and the promotion of quality education in South Sudan for both girls and boys, serving as an example to overturn the nation's struggling literacy and attendance rates.
Students from Loreto consistently produce some of the highest test scores on state exams, and each year more female students complete their secondary education and go on to attend universities.
New Worlds of Opportunity
Sister Orla Treacy who directs Loreto Schools and serves as Principal, works to continually provide opportunities for students to expand their academic, social, and spiritual education.
In August, two Loreto students had the opportunity to travel to Portugal to attend World Youth Day – a global event that happens every three years, bringing together over a million and a half students from Catholic schools worldwide over six days. The students also receive a visit from the Pope. The girls recounted it as a truly wonderful experience.
Earlier this year, students of Loreto represented the only school in South Sudan that had the opportunity to participate in World Robotic Olympiad Training. This event provides a five-day introductory course in the basics of coding and computer programming. Many students were interested to learn more and requested the opportunity to pursue additional training in this relevant vocation at the university level.
No Letup in Malaria Season Despite Lack of Rain
The rainy season arrived in Rumbek, but the annual rains didn't arrive with it. Just like other areas in South Sudan, the region has been struggling from high temperatures and drought, making it difficult to grow their usual crops in the agricultural program on campus.
The rains typically bring an increased mosquito presence and subsequent seasonal malaria outbreak. Each year the Mary Ward Health Clinic on campus gears up for the anticipated onset of malaria by stocking anti-malarial medicines.
Despite the lack of rain, the mosquito population returned in full force, and the clinic has been busy treating students, staff, and people who come from the community for help. The clinic serves as an outreach by the school, and numerous graduates have come back after completing university studies to work at the clinic.
Defeating Malnutrition
In August, the health clinic officially concluded their Nutritional Support Program, which helped nurse 70 malnourished children back to health. In May, 70 affected children from the local community were enrolled in the program, which was designed to improve the children's health through enhanced nutritional support, medication, and hygiene over a three month period.
After completing the program, all 70 children were deemed in good health and released. Malnutrition is a serious threat to children in South Sudan, where an estimated 1.4 million children under age 5 are considered to be malnourished.
Your support of Loreto Schools helps make these achievements possible. Thank you for partnering with us to transform children's lives and futures in South Sudan.
Making Motherhood
A Cherished Experience – Not a Deadly One
In the remote Nuba Mountains of Gidel, Sudan, there is only one hospital in a radius of 300 miles. It is Mother of Mercy Hospital, a Sudan Relief Fund supported facility directed by missionary doctor, Tom Catena.
Dr. Tom, as he is known, is the only surgeon at the hospital. He works seven days a week and is always on call for emergencies. Patients come from great distances to find help here. Dr. Tom has served for many years through war time and peace time to provide critical care for the people of Nuba.
Childbirth in Sudan and South Sudan is still incredibly risky for women, with one of the highest mortality rates for mothers and babies in the world. Without access to healthcare, girls commonly give birth on dirt floors in huts and have no medical supervision. But the team at Mother of Mercy Hospital is fighting to change that.
Mother of Mercy Hospital has the only maternity ward in the area, where women with complications of pregnancy can find lifesaving treatment. Every year, 500 mothers and babies survive childbirths that could otherwise have ended in tragedy.
Twenty one year-old Viviana is one of the lucky ones. This young mother lives in Gidel and has access to the services of the hospital's maternity ward. She learned from her first childbirth that she has a narrow pelvis, which will always make it impossible for her to deliver normally. Without being seen at Mother of Mercy, she would never have been aware of this critical condition.
When Viviana was pregnant with her second child, she came a few weeks early to the hospital and waited, knowing here she could safely bring her child into the world. When the time came for her to go into labor, Viviana welcomed her first son, Kuti, who was delivered successfully through a C-section surgery performed by Dr. Tom.
Because your support makes it possible to perform these lifesaving services, Viviana is the mother of two healthy children. Treatable complications that can turn deadly are no longer a death sentence for mothers and their babies here, because of access to quality healthcare at Mother of Mercy.
Vivana knows this well, and understands the difference it's made in her life. "We are very grateful for your sacrifice here in Nuba," she expressed. Your gifts are making the moment of childbirth the joyful occasion it should be – not a deadly one.
---
Would you like to pray for us? Sign up for our email prayer group to receive weekly emails sharing important needs to pray for. You'll join a faith community around the globe praying to bring hope and help to suffering people in a forgotten part of the world. Click here to find out more.