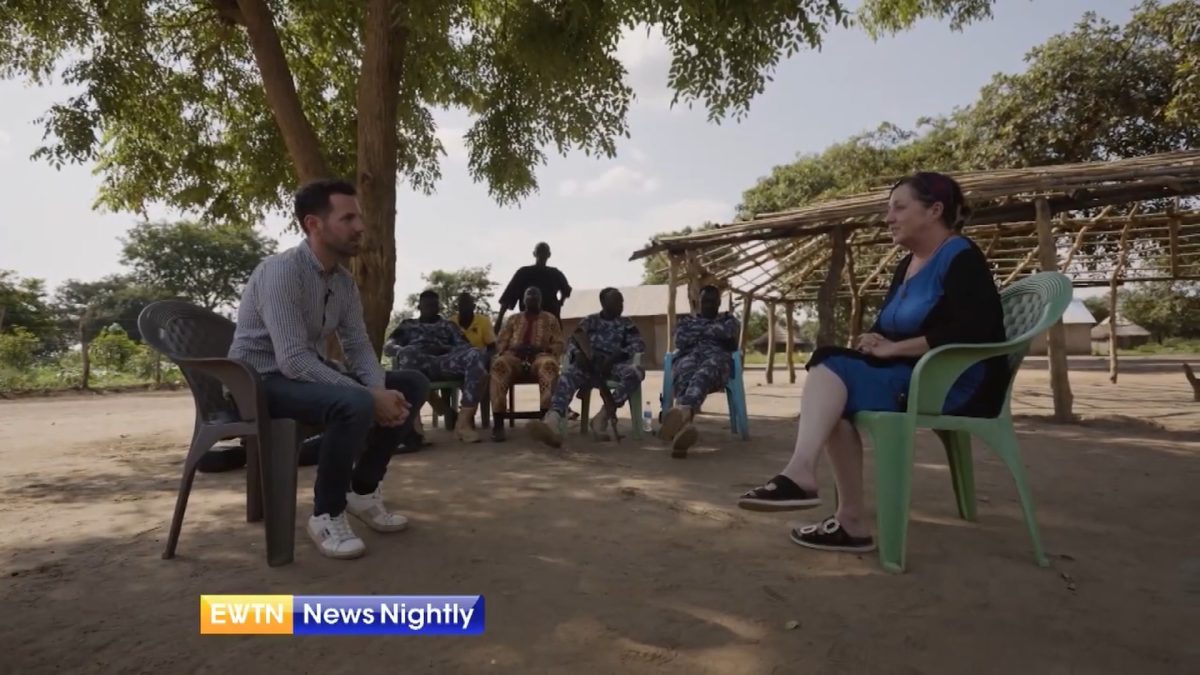 Sudan Relief Fund Highlighted in EWTN Nightly News
"It was an extraordinary trip and a very powerful one as well."
EWTN News Nightly, a Catholic media outlet reaching more than 100 million households worldwide, recently aired coverage of a trip newsroom correspondent, Colm Flynn, made to South Sudan.
While Flynn was in the country covering the Vatican's trip to the region, he reported on projects highlighting the work of Sudan Relief Fund in the capital city of Juba and the area of Rumbek.
In the report, Flynn described his visit to St. Clare's Home for Children, an orphanage directed by Father Federico and supported by Sudan Relief Fund. "These children come from very dangerous situations, living on the streets of Juba," Flynn said. "Most of them lost their parents to the war. Or their parents, too, are on the streets. They're left to fend for themselves."
Flynn continued. "We went to the orphanage, who cares for them as best they can with the very little resources they have. They give them a bed, they give them food, and also education. We interviewed some of the children who told us how happy they were to be off the streets and now in safety."
Flynn's team also traveled to the rural community of Malo, a village outside Rumbek in the central part of the country, where over four thousand people live in a leper colony. Sudan Relief Fund partner, Noeleen Loughran, accompanied the reporters. Previously the people were on the brink of death from illness and starvation, until Noeleen discovered their dire condition.
Since then, she has worked through Sudan Relief Fund with the help of donors to turn the tide for this community of people. Said Flynn, "(Noeleen) has been working with the people there, bringing them food, life changing medication, and building them homes as well, to protect them from the wild animals like the hyenas. All this work has been funded by the Sudan Relief Fund."
He described, "It was extremely powerful being there, and quite emotional as well. Because you see these beautiful people who have absolutely nothing – many missing fingers, toes, entire feet due to leprosy – but still being able to smile and be joyful in the midst of everything. That really was extraordinary."
Flynn's team witnessed the encroaching conditions threatening to develop into a crisis of food insecurity throughout the nation. "Now the country of South Sudan is even facing a famine. Many people will probably starve in the next number of years. This is due to the global increase in food prices as a result of the war in Ukraine. And on top of that, South Sudan has experienced in the last two years flooding and then drought. So that has decimated their own crops."
Flynn's report shared the welcoming spirit of the people they visited and how eager they were to have their stories told. "The reality is that still today the need there is so, so great, it's hard to put into words."